Snap's Concentrated Power Structure Takes a Page From Old Media
By , , and
Company may be first to hold U.S. IPO with non-voting stock

Three share classes give founders iron grip on strategy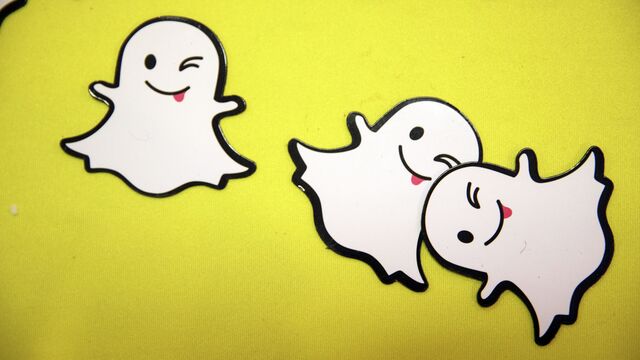 Snap Inc. often likens its app to a new form of television. It's also borrowing from the playbook of traditional media companies to create a small circle of power in its top ranks.
Using three classes of stock, founders Evan Spiegel and Bobby Murphy will hold majority voting rights after an initial public offering, according to the company's prospectus. That sort of control is rare outside the media business or the hottest technology companies.

The Snapchat app maker intends to go a step further than most newly public companies by selling Class A shares in its IPO with no voting rights. As a result, Spiegel and Murphy can avoid losing power while raising capital.
"Snap is doing something I have not seen before: creating and issuing non-voting shares at the IPO," said Jesse Fried, a professor at Harvard Law School. "After the IPO, Snap can issue additional non-voting stock to employees or other parties without eroding the founders' control rights."
The use of multiple voting classes has been a common way for media moguls to retain power over their businesses while reducing their financial stakes. Rupert Murdoch uses the strategy at News Corp. and Twenty-First Century Fox Inc., as does the Ochs-Sulzberger family at the New York Times Co. and Sumner Redstone at CBS Corp. and Viacom Inc. These arrangements come with their share of resistance from stockholders.
Media barons have said the ownership structure is necessary to protect their companies' editorial independence or creative freedom, said Paul Gompers, a professor at Harvard Business School. "Outside shareholders understand that the insiders have the ability to call the shots," he said.
Tech companies can thank Google for legitimizing the practice in their industry. To sell the idea to prospective investors, Google founders Larry Page and Sergey Brin compared their business with newspaper publishers and Wall Street favorite Berkshire Hathaway Inc., which owns several papers.
When Google filed to go public in 2004, they acknowledged that dual-class structures were unusual for tech companies but typical among publishers that wanted to focus on the long-term task of "serious news coverage, despite fluctuations in quarterly results," according to their IPO paperwork. They cited the New York Times, Washington Post and Wall Street Journal publisher Dow Jones, as well as Warren Buffett's Berkshire.
"We want Google to become an important and significant institution," Page and Brin wrote. "That takes time, stability and independence. We bridge the media and technology industries, both of which have experienced considerable consolidation and attempted hostile takeovers."
Since then, several tech companies have adopted dual-class shares, with mixed results. Under Mark Zuckerberg's control, Facebook Inc. has weathered several technological upheavals, including the shift from desktop to mobile, and more than tripled its share price. However, some investors still chafe at his unchallenged power. Facebook is currently trying to fend off a shareholder lawsuit, including allegations that board member Marc Andreessen helped advise Zuckerberg at the expense of shareholders.
The founders of online coupon site Groupon Inc. and social game maker Zynga Inc. employed dual-class shares to give top executives majority voting control. Each founding CEO was ousted less than two years after their IPOs, and their market values have dropped by more than two-thirds since going public in 2011.
Snap is asking investors for even more faith by introducing a third class of stock. The Class A shares have no votes; the Class B have one vote per share; and the Class C have 10, according to the filing. Spiegel and Murphy own the Class C stock, giving them "the ability to control the outcome of all matters submitted to our stockholders for approval," the company wrote. That could nix a merger or acquisition of Snap that other shareholders might support and let the founders make other long-term strategy decisions that may not work out, it warned.
"To our knowledge, no other company has completed an initial public offering of non-voting stock on a U.S. stock exchange," Snap wrote. "We cannot predict whether this structure and the concentrated control it affords Mr. Spiegel and Mr. Murphy will result in a lower trading price."
Google, now owned by Alphabet Inc., was sued over the issuance of non-voting stock and later for creating a third class of stock cementing Page and Brin's voting control for good. It settled both cases.
"You'll continue to see this trend happening until there is something really negative as a result," said Thomas Ivey, partner at law firm Skadden, Arps, Slate, Meagher & Flom.
The money-making side of Snap is fairly young, but it's increasingly positioning itself to take advertising dollars from media companies. It's aiming to keep the eyes of its largely millennial audience glued to its app, interspersing ads into video reels and in publishers' Snapchat content.
The company has warned that its financial performance will be "lumpy" as it continues to grow, people familiar with the matter have said. In its IPO filing, Snap reported a 2016 net loss of $515 million, versus a loss of $373 million in 2015.
Snap is asking potential investors to trust a couple of twentysomethings to figure out how to capitalize on user engagement, keep growing and eventually reach profitability -- without shareholder intervention.
Before it's here, it's on the Bloomberg Terminal.
LEARN MORE