business
NFL Stars Can Get Rich at the Super Bowl Without Playing a Down
By
Week's festivities create high demand for player appearances

Current, former NFLers can make 'a quarter million easily'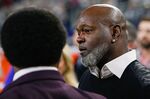 Every player on the team that wins the Super Bowl will take home a $107,000 bonus. Not bad, but many of players who have already hung up their cleats for the season will earn far more during the festivities leading up to the game.
There's an appearance economy surrounding every Super Bowl, where current and former NFL players capitalize on the media spotlight and surrounding buzz to earn some extra money. Willing to pedal a flower delivery service for two hours of radio hits? That might earn you $20,000. An hour telling locker room stories with local businessmen could net $100,000. You might earn the same to take photos at a company Super Bowl party.
Make more than one appearance, the money starts to pile up. "A Pro Bowl-caliber player can earn a quarter million dollars this week, easily," said Bob Broderick, who helps facilitate these appearances through his firm, RTB Media.
Take, for example, Emmitt Smith, a Hall of Fame running back and veteran of the Super Bowl hustle. He'll earn "mid-six-figures" this week in Houston, according to his agency, Octagon, and he hopes to parlay the contacts into additional business for his real estate company.
"I get to double down," Smith said in between radio hits in Houston, where he gave bottles of Herradura tequila to hosts from across the country. "For me it achieves a number of objectives. It puts my personal brand out there, I get to establish relationships with some key C-suite individuals, and I get to talk to them about what I'm doing outside of entertaining their clients."
Players who are competing in the Super Bowl can't take advantage of these opportunities, at least not this year. Their availability is strictly governed by the league and their teams. As much as a company might want Matt Ryan or Tom Brady to schmooze for an hour, they're generally not available.
That creates opportunities for stars like Smith who, after years of work with ESPN and NFL Network, knows how to work an audience. His appearances typically start first thing in the morning and finish after dark, on the party circuit. Among other things, his Houston schedule includes a two-hour radio tour with Herradura, hosting the Hall of Fame tailgate, an appearance at the NFL's Legends Lounge, lunch with Marriott rewards members and stops at parties sponsored by FedEx and Marriott.
"It's a very lucrative way to kick off the off-season," said Ahmad Nassar, president of the NFL Players Association's marketing arm. It's not unheard of for the most popular players to earn more than $500,000 for a single event, he said.
Planning begins months before the Super Bowl, when companies reach out to agents -- and vice versa. The NFLPA, which will facilitate a union-record 700 appearances in Houston this year, creates what it calls the "Super Bowl grid," a master spreadsheet that shows which players are in town, where they're staying, and how much free time they have.
Requests range from the standard to the truly bizarre. Nassar recalled a fan who offered more than $100,000 for a former player to skydive with him during the 2015 Super Bowl. Logistics and insurance were complicated, and Nassar doesn't remember if it actually happened. "I do remember our lawyers saying, 'Are you serious?'" Nassar said.

When the Super Bowl was in New York in 2014, Broderick took Jets defensive lineman Muhammad Wilkerson to an event where he was paid $20,000 to take photos and sign autographs. Wilkerson was still on his rookie contract and new to paid appearances. "What else do I have to do?" he asked, according to Broderick's memory. When he was told that was it, Wilkerson had another question: "Can we schedule more of these?"
Every Super Bowl has what's known as radio row, a huge room where hundreds of radio stations and some TV crews set up camp. Players and coaches bounce from set to set, paid by various brands to plug their product amid questions about football. Those deals typically range from $10,000 to $50,000.
The bigger money comes from events around town, either public appearances for big sponsors or private gatherings for corporations and their clients. The opportunities aren't just for athletes -- actors, models and musicians all get into the action -- and it's about more than just money. Emmanuel Acho, a free agent linebacker, said appearances last year helped land him a commentary gig for ESPN's Longhorn Network.
"Every player should come down, 100 percent," Acho said. "You can make some money, and meet, mix and mingle with people who can change your career when you're done with football. Capitalize on it."
Before it's here, it's on the Bloomberg Terminal.
LEARN MORE