May Carries Trump Message to a Malta Summit Seeking Clarity
By
EU leaders meet for first time since Trump became president

Twitter is go-between, not U.K., Lithuanian president says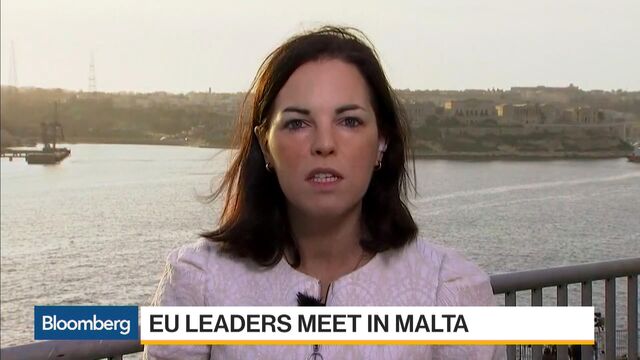 After holding hands with Donald Trump, Prime Minister Theresa May arrived at a European Union summit in a former British colony with a special message from the U.S. president.
She told EU colleagues that Trump promised to back NATO, the military alliance he has called "obsolete," but wants everyone to meet their financial commitments. As the first foreign leader welcomed to the White House, May had Trump's ear for an afternoon and briefed leaders gathered in Malta on her impressions of a man many of them view with suspicion.

But with Trump showing no qualms about defying America's closest friends, confidence in the "special relationship" between Britain and the U.S. may be misplaced, in spite of efforts to paint the May-Trump rapport as a version of the 1980s power couple, Margaret Thatcher and Ronald Reagan.
"I think there is no necessity" for May to be a bridge to the U.S., Lithuanian President Dalia Grybauskaite told reporters as she arrived for the talks. "We are communicating with the United States mainly on Twitter."
May met with Trump on Jan. 27 and told her counterparts about her trip and sought to ease any NATO concerns during a discussion of the bloc's response to the new administration.
Share Burden
"It is only by investing properly in our defense that we can ensure we are properly equipped to face our shared challenges together," May's office said before the talks. Her mission was to "encourage other European leaders to deliver on their commitments to spend two percent of their GDP on defense, so that the burden is more fairly shared," it said.
While May brought some clarity on NATO, fears over Trump's approach to the EU will be harder to calm after comments by Ted Malloch, who is tipped to be his envoy to the bloc. Gianni Pittella, the socialist leader in the European Parliament said Trump is using May as a "Trojan Horse" to break up the EU.
Complex, Bloated
The EU "is an overly complex, fairly bloated bureaucratic organization," Malloch told Bloomberg TV on Friday. "Its ambitions have basically overstepped its capabilities."
For May, the summit is about gaining Brexit leverage among European partners ahead of divorce talks due to start by March 31. Having an inside track with Trump could be an advantage -- by helping political heavyweights such as Germany's Angela Merkel understand him better.
May and Merkel were deep in conversation as the leaders took a walk around Valletta before lunch and the two were side-by-side as they were shown around St John's cathedral. She also had one-on-one meetings with Spanish Prime Minister Mariano Rajoy and Austrian Chancellor Christian Kern.
The challenge for May, as she tries to court a free trade agreement with the U.S. while pushing for a good deal from the EU, is not lost on the other leaders meeting in Valletta. Backing the wrong side could be her downfall, Maltese prime minister Joseph Muscat warned.
"It is a balancing job the prime minister must make," he told Sky News. "It is pretty clear she needs to choose her priorities well."
Trusting Trump
Part of the problem for May is that Trump is not only divisive but could also be an unreliable ally.
May returned from Washington to an outpouring of fury over a U.S. travel ban that Trump had not given her a heads-up about. An anti-U.S. petition drew more than 1.8 million signatures, triggering a debate in Parliament.
The U.K. premier stuck by Trump, insisting he should be honored with a state visit later this year even as members of her own Conservative Party said they were appalled by the travel restrictions placed on some predominantly Muslim countries. An opposition lawmaker called her "Theresa the Appeaser."
Traces of the British empire, when the U.K.'s geopolitical influence was at its peak, abound in the fortress island in the Mediterranean Sea.
In the Maltese capital, May tested the waters with some overtures on immigration, a key issue for many of her counterparts, and a few tidbits on the man only she, for now, has met in person.
— With assistance by Alex Morales
Before it's here, it's on the Bloomberg Terminal.
LEARN MORE