DeVos Fight Clogs Senate Phones as Confirmation Vote Nears
By
Voucher-advocate DeVos to get vote Tuesday on Education post

Vice President Pence expected to cast the tie-breaking vote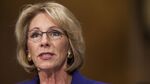 A number of President Donald Trump's nominees have drawn objections from Senate Democrats and the public, yet his choice of Betsy DeVos to lead the Education Department is stirring a surprisingly intense outcry.
Senate mailboxes, e-mail accounts and phone lines are jammed with messages and calls, part of a significant backlash against her nomination. The chamber is expected to vote on her confirmation Tuesday, and it's expected to be so close that Vice President Mike Pence will have to cast his first tie-breaking vote.
Two Republicans have joined Democrats in opposing her appointment, teeing up a likely 50-50 result, until Pence votes. Activists, who have been flooding Democratic offices with complaints about DeVos, have turned their attention on several Republicans they hope will start having second thoughts about backing her.
"We are experiencing heavy call volumes in all our offices. Staff is answering as many as possible. Please continue calling to get through," Dean Heller, a Republican from Nevada who had been seen as a possible no-vote, said Thursday on Twitter.
The day before, Heller issued a statement saying he would back DeVos "due to her commitment to improve our nation's school system for all students and her focus on increasing parental engagement."
After the vote on DeVos, Senate Majority Leader Mitch McConnell has set up votes for attorney general nominee Jeff Sessions, Health and Human Services nominee Tom Price and Steven Mnuchin, chosen to be Treasury secretary, in that order. All could be confirmed by Feb. 11 if McConnell keeps the chamber in.
GOP leaders and the Trump administration are working hard to keep all the remaining Senate Republicans in line on DeVos's nomination.
"She is an unbelievable, remarkable woman who has fought very hard to improve our nation's education system and to make sure that schools are serving children," White House press secretary Sean Spicer said Friday. "And I think that we're going to make sure
we do everything we can and we feel 100 percent confident that she will be confirmed."
'Fundamentally Undermine'
In opposing DeVos, Democrats cite her lack of experience with public education, noting she has mostly focused on fighting for charter schools and vouchers. Some, like Senator Patty Murray of Washington, the ranking Democrat on the committee that voted along party lines to advance DeVos to the Senate floor, contend she's too invested in the debate to effectively administer all of the nation's schools.
"She has spent decades advocating for educational policies that would fundamentally undermine our public education system," said Senator Kirsten Gillibrand, a New York Democrat who opened a recent speech on the Senate floor by reading three of the tens of thousands of letters she's received on the nomination. "What kind of message does this send to our students and their families and teachers?"
Democrats say DeVos's confirmation hearing cast doubts on her commitment to ensuring access to education for students with disabilities. Lawmakers also criticized her complex financial holdings and statement that she might allow guns in schools as a defense against grizzly bears.
Urgency around the confirmation fight took on new life Wednesday when two Senate Republicans, Susan Collins of Maine and Lisa Murkowski of Alaska, said they would vote against her. Both said DeVos doesn't understand rural public schools enough to calm their concerns.
Busy Signals
Murray, the Democrat from Washington, has received over 50,000 calls and letters on DeVos alone, said her spokesman Eli Zupnick. Most are opposed, she said Friday on the Senate floor. Pennsylvania Democrat Robert Casey has received the same amount.
"We have heard from across this country from so many parents and teachers and business leaders who are urging senators from every state to vote no on this nominee," Murray said.
Republicans reported similar calling volumes.
Callers to Pennsylvania Republican Pat Toomey's offices in Washington and Pittsburgh met with busy signals, a CBS affiliate there reported.
Senate Republican Whip John Cornyn of Texas said DeVos will be confirmed and "you can take that to the bank."
Several Republicans who backed her during the past week said they received specific assurances from DeVos that helped them reach a decision.
"I have received assurances from her in writing that the Department of Education will not impose new federal mandates related to vouchers on our schools," Republican Deb Fischer of Nebraska said Thursday in a statement. "She has also made a commitment to me in writing that she will work to protect all students, especially those with disabilities."
DeVos is a longtime Republican Party donor and activist. She was appointed in 2004 by then-President George W. Bush to the board of the Kennedy Center for the Performing Arts in Washington. She and her husband, Dick DeVos, president of the Windquest Group, donated $22 million to the center's program, which carries their name, to train managers and boards of arts institutions.
Final Push
With just days left until the final vote, opponents of DeVos planned a flurry of activity to pressure senators.
Randi Weingarten, president of the American Federation of Teachers, said the outpouring has been unprecedented, and a union official said local demonstrations are planned over the weekend in states including Ohio, Colorado, Kansas and Pennsylvania, all of which have at least one GOP senator. "This grassroots outcry crosses party and geographic lines," Weingarten said in a statement.
Meanwhile, Greg McNeilly, a spokesman for DeVos, said she is confident in her ability to win confirmation, given the 50 public declarations of support from Republicans. He said she has so far worked with transition advisers and attempted to meet with every member of the chamber.
"We think that's pretty much self-evident," he said Friday, referring to the statements by the senators. "We're not predicting any outcomes, but we're pretty confident."
— With assistance by Steven T. Dennis
Before it's here, it's on the Bloomberg Terminal.
LEARN MORE