El-Erian Says Disappointing Wage Figure Cuts Chance of Fed Hike
By
Results focus attention on need for structural reform, he says

Be careful on disrupting trade ties, Allianz's El-Erian warns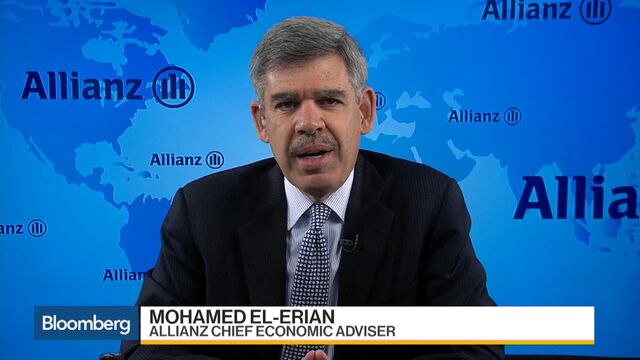 Mohamed El-Erian, Allianz SE's chief economic adviser, said lackluster wage growth in the U.S. may prompt the Federal Reserve to pause before raising interest rates again, while adding pressure on lawmakers to make sure that more Americans benefit from economic expansion.
The figure on pay is "disappointing," El-Erian said Friday in an interview on Bloomberg Television. "This will make the Fed less likely to hike in March," he added. "It puts even more focus on structural measures to enhance wage growth."
The U.S. added 227,000 jobs in January, according to a Labor Department report Friday, beating the median forecast of 180,000 in a Bloomberg survey of economists. And the unemployment rate rose to 4.8 percent, indicating more Americans are coming back into the labor market to look for jobs. However, worker pay edged up just 0.1 percent in the month.
The Federal Reserve gave little little indication earlier this week on when it might tighten monetary policy, after leaving rates unchanged. Policy makers in December said they expect to hike rates three times in 2017.
President Donald Trump won the election in November after campaigning on promises to improve the U.S. economy with more jobs and better wages, a platform that was especially popular in blue collar regions that missed out on the prosperity of urban centers. El-Erian welcomed parts of Trump's plan.
'Absolutely Key'
"I think tax reform and infrastructure spending is what drives this economy forward, in terms of growth, in terms of wages, in terms of more inclusive expansion," El-Erian said. "That is absolutely key."
While Trump is also promoting plans to roll back Wall Street regulation, El-Erian cautioned against going too far, saying that a balanced approach is needed to also protect the soundness and safety of the financial system. He has also warned that the president's attempts to boost American manufacturing could backfire if global trade is thwarted.
"It's always good to revisit trade agreements after decades," said El-Erian, who is also a Bloomberg View columnist. "That's what most sensible people do. But be careful about rupturing longstanding trade relations."
For now, markets are giving the Trump administration the benefit of the doubt as investors wait to see how his staff will enact and oversee policies, he said. Some Trump cabinet picks, such as the nominee to head the Treasury Department, Steve Mnuchin, have yet to be confirmed by Congress.
Before it's here, it's on the Bloomberg Terminal.
LEARN MORE