Deutsche Bank to Cut Equities and Fixed Income Trading Staff
By and
Cuts said to affect up to 6% of FI staff and 17% of equities

Company aims to eliminate 9,000 jobs to raise profitability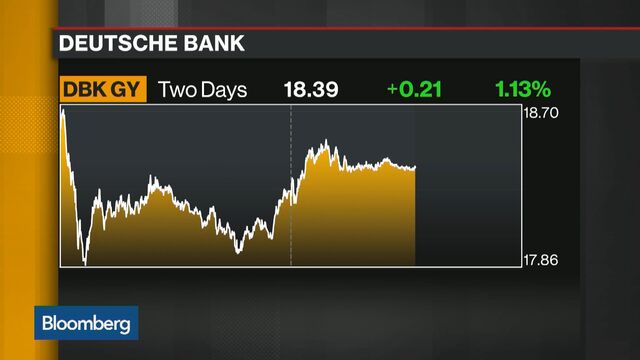 Deutsche Bank AG is about to eliminate staff at its trading business, according to a person familiar with the matter, a day after reporting results for the unit that missed analysts' expectations.
The bank will cut as much as 17 percent of staff globally in its equities unit and reduce fixed-income headcount by as much as 6 percent, with notices to be served to employees soon, the person said.
Chief Executive Officer John Cryan is eliminating 9,000 jobs across the company to raise profitability and capital levels eroded by misconduct costs. Deutsche Bank's market share in fourth-quarter trading fell to the lowest since the financial crisis as Cryan cut assets and clients concerned about the company's finances pulled back.
Deutsche Bank hasn't said how the 9,000 jobs cuts, first announced in 2015, would be split across each of its businesses. On Thursday, management board member Christian Sewing reiterated that 4,000 of the cuts would be in Germany, most of them at the private, wealth and commercial clients unit, which he oversees. The Wall Street Journal reported the job cuts in equities and fixed income earlier on Friday.
The cuts in equities mark a contrast with the bank's goals of growing in that business. Last April, Chief Financial Officer Marcus Schenck said, "we're very committed to equities as part of our strategy, and we are reinvesting here in our confidence that we will regain market share."
Equity trading revenue, which analysts had expected to be flat, fell 23 percent to 428 million euros ($460.7 million) in the fourth quarter from the year-earlier period. Debt-trading revenue rose 11 percent to 1.38 billion euros, falling short of the 1.68 billion-euro average estimate of 10 analysts in a Bloomberg News survey.
The equities business was "flattish" or slightly down in January compared with a year earlier because many hedge fund clients who pulled back last year have yet to return, Schenck said Thursday on a call with analysts. By contrast the firm's debt-trading business saw a 40 percent increase in January, he said.
Deutsche Bank will continue to reduce costs and may even increase its targets, Schenck said on the call. "We need to and can be more aggressive" on cutting costs, he said.