Stephen Chow Comedy Drives Growth in China's Holiday Box Office Again
by
'Journey to the West' sequel sets single-day revenue record

January box office sales gain 25%, ending four-month decline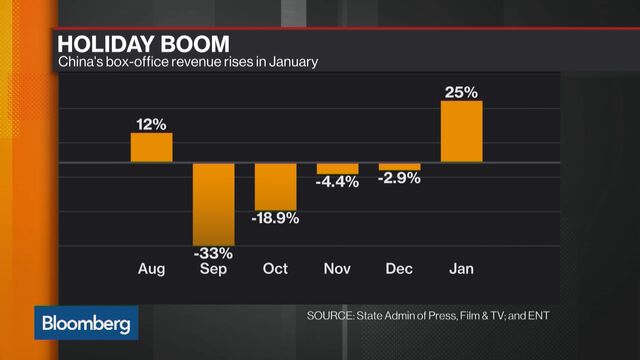 Producer Stephen Chow's hit comedy franchise and a Jackie Chan action film helped drive up China box-office sales 13 percent over the week-long New Year holiday and led the industry's first monthly gain since August.
Ticket revenue for the six days ending Feb. 2 rose to 3.34 billion yuan ($485 million), compared with 2.96 billion yuan over the Feb. 8 - Feb. 13 holiday period a year earlier, according to industry data provider EntGroup Inc. Figures for Feb. 2 are preliminary.

Global film-industry executives are watching China's box office results for signs of a turnaround after ticket sales growth slowed last year to the weakest pace since at least 2008. Filmmakers from Hollywood to Beijing and local cinema operators have invested heavily to build a Chinese audience that, prior to last year's dearth of hit films, had been expected to overtake the U.S. in 2017 in terms of revenue.
"The strong holiday box office performance beat market expectations, and we believe it serves as a strong signal that box office revenue has bottomed," HSBC analysts led by John Liu wrote in a Feb. 2 note to clients. Ticket subsidies and a change in the way revenue is calculated to include online booking fees contributed to the increase, according to the note.
Stripping out the effects of subsidies and fees, HSBC estimates box office revenue rose 15 percent to 17 percent on the first day of Chinese New Year.
Chow's "Journey to the West: The Demons Strike Back" set a single-day record for ticket revenue at about 354 million yuan on Jan. 28, the first day of Chinese New Year, according to EntGroup. A sequel to Chow's 2013 hit, "Journey to the West" is based on Buddhist monk Tang Sanzang's journey to India, generating about 1.2 billion yuan ticket sales so far.
"Kung Fu Yoga," an action-adventure comedy film starring Jackie Chan, was the second-most popular film over the New Year period, the data show.
Chan and Chow's hits helped box office revenue jump 25 percent in January to 4.8 billion yuan, the steepest gain since March 2016.
The week-long holiday over Spring festival is traditionally a peak time for families to watch films. Last year, Chow's romantic comedy "The Mermaid" dominated the New Year's holiday box office, driving up February ticket sales to a record and setting the all-time high for a single film.
Before it's here, it's on the Bloomberg Terminal.
LEARN MORE