China Tightens Monetary Policy by Raising Money Market Rates
Bloomberg News
Move to tighten rates on repo agreements follows MLF rate rise

PBOC is switching gears after past stimulus steadied economy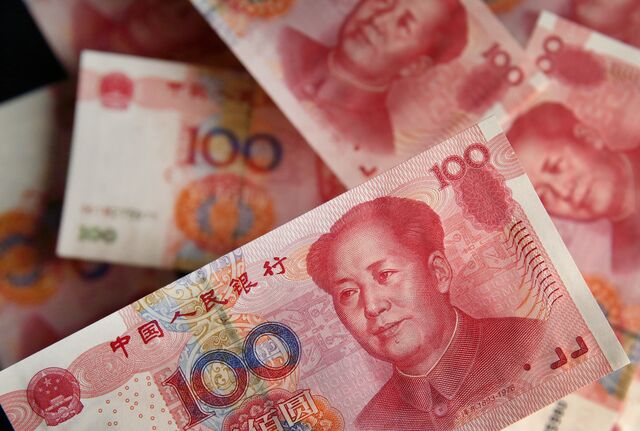 China's central bank tightened monetary policy by raising the interest rates it charges in open-market operations and on funds lent via its Standing Lending Facility as it shifts to reining in asset prices and inflation.
The People's Bank of China increased the costs of seven-, 14- and 28-day reverse repurchase agreements by 10 basis points each to 2.35 percent, 2.5 percent and 2.65 percent respectively, according to a statement on its website. This is the first increase since 2013 for the two shorter tenors, and the first such move since 2015 for the 28-day contracts.
The SLF rate was increased to 3.1 percent from 2.75 percent, according to people familiar with the matter who declined to be identified because they're not authorized to speak publicly.
The moves come just as cash demand is expected to ease after the week-long Lunar New Year holidays and follows an increase in rates on medium-term loans last week. The PBOC is mid way through a policy overhaul, with officials in the past signaling a corridor is evolving where repo rates guide the short end and SLF rates act as the ceiling.
"A rate hike on the first working day after the New Year holiday signals a new attitude," said Raymond Yeung, chief greater China economist at Australia & New Zealand Banking Group Ltd. in Hong Kong. "The PBOC never makes it clear, but the 7-day reverse repo rate is the unofficial policy rate, a significant benchmark for interbank rates."
One-year interest-rate swaps climbed as much as 12 basis points to 3.43 percent, the highest since Dec. 28, while the seven-day repurchase rate pared declines to 13 basis points to trade at 2.50 percent, according to a weighted average. Ten-year government bonds were little changed, while Shanghai shares extended losses to 0.6 percent.
'Tightening Message'
The PBOC's move is "surprising and the tightening message is strong," said Frances Cheung, Hong Kong-based head of rates strategy for Asia ex-Japan at Societe Generale SA. The fact that the whole yield curve rose shows the market is concerned about further deleveraging, she said.

The move will send Chinese bonds into a technical bear market, said Ming Ming, Beijing-based head of fixed income research at Citic Securities Co. Tighter policy aims to further deleveraging, prevent an overheating in credit growth and widen the yield advantage Chinese bonds have over U.S. debt, thereby supporting the yuan, Ming said.
In a Bloomberg News survey conducted in late December, one-third of the 24 respondents predicted the PBOC would increase reverse repo rates, while the rest expected no change. The central bank has also been tightening cash supply since August to curb leverage in the financial system, rein in price gains and support the exchange rate.
Policy Shift
With factory prices rebounding after years of deflation, policy makers have made avoiding financial system risk a key theme in recent months. Friday's moves underscore the leadership's determination to push up funding costs of short-term tenors to rein in leverage and switch to the combination of less monetary stimulus and more fiscal support, after earlier easing fueled bubbles in bonds and the property market.
Tightening via lending facilities and money-market rates shows the central bank's desire to make further progress on liberalizing interest rates, said Iris Pang, senior economist for Greater China at Natixis Asia Ltd. in Hong Kong.
The PBOC's easing cycle since late 2014 included a series of cuts that pushed the main interest rate to a record low. That's been accompanied by a buildup in borrowing that's increased debt to 264 percent of GDP, according to Bloomberg Intelligence.
For a look at BI analysis of China's debt and economic growth, click here
While balancing between economic growth and cutting leverage has been an eternal game for policy makers, the latest moves show more willingness to sacrifice growth to control risks, said Tommy Xie, an economist at OCBC Bank in Singapore. "Reining in risks is the priority."
— With assistance by Justina Lee, Enda Curran, Yinan Zhao, Robin Ganguly, Emma Dai, and Helen Sun
Before it's here, it's on the Bloomberg Terminal.
LEARN MORE