Trump Threatens U.C. Berkeley Funding Over Violent Protests
By and
Police canceled speech by Breitbart editor after violence

Educators baffled by tweet, unsure if Trump can pull funds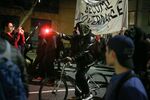 President Donald Trump threatened to take away federal funding from the University of California at Berkeley the morning after violent, fiery protests prompted the cancellation of a speech by a provocative Breitbart News editor.
"If U.C. Berkeley does not allow free speech and practices violence on innocent people with a different point of view - NO FEDERAL FUNDS?" Trump said in a post Thursday morning on Twitter, ahead of his planned appearance at the National Prayer Breakfast in Washington.
Police canceled a Wednesday night speech by Milo Yiannopoulos "amid an apparently organized violent attack and destruction of property," according to a statement from the university. Yiannopoulos, known for making critiques on political correctness and barred from Twitter for his role in the trolling of comedian Leslie Jones, was invited by the Berkeley College Republicans, a student group, the university said.
Some advocates for universities and education said they were surprised by Trump's tweet, adding they were unsure if the president can actually follow through on the threat to yank federal funds. Berkeley received $370 million in 2015-2016 federal research funding, according to the university. Undergraduate students there received almost $40 million in federal student loans and about the same amount in federal Pell grants in the 2014-2015 school year, the most recent data available, according to the National Center for Education Statistics.
'Punish a University?'
"I have never seen anything like this," said John Walda, president of the National Association of College and Business Officers. "Why would you infer that you want to punish a university" when it was only trying to protect people. The university "did exactly the right thing," he said.
Ari Cohn, an attorney with the Foundation for Individual Rights in Education, an advocacy group, said his organization "isn't aware of any law that currently exists under which a university's federal funding could be rescinded or revoked due to a speaker issue or First Amendment issue."
Related: Milo Yiannopoulos Is the Pretty, Monstrous Face of the Alt-Right
The university said Chancellor Nicholas Dirks had made clear that Yiannopoulos' "views, tactics and rhetoric are profoundly contrary to those of the campus," but that the university is committed to "enabling of free expression across the full spectrum of opinion and perspective" and condemned the violence.
Berkeley seems to have done everything it can to protect students' First Amendment rights, Cohn said.
In the past year, there have been 42 attempts to "disinvite" speakers on the basis of extreme, unwelcome views, Cohn said. Yiannopoulos has himself been the target of 11 of those attempts, Cohn said. Other speakers, both right- and left-wing, have also been frequent targets, including social and political activist Angela Davis, he said.
— With assistance by Michael McDonald, and Janet Lorin
Before it's here, it's on the Bloomberg Terminal.
LEARN MORE