Trump Says He'll 'Destroy' Law Keeping Churches Out of Politics
By
President reaffirms campaign promise at first prayer breakfast

Trump also mocked actor Arnold Schwarzenegger for show ratings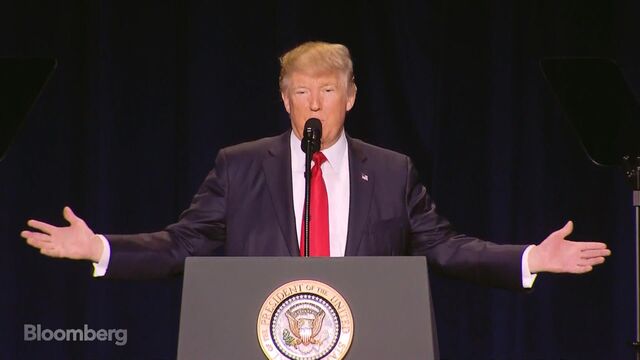 President Donald Trump pledged to repeal a decades-old provision of tax law that prevents pastors from endorsing candidates, recommitting to a campaign promise during a speech at his first National Prayer Breakfast in which he veered into politics and pop culture and even used a mild profanity.
"I will get rid of and totally destroy the Johnson Amendment and allow our representatives of faith to speak freely and openly without fear of retribution," Trump said during the event, referring to a 1954 measure pushed by then-Senator Lyndon Johnson. "I will do that, remember."
Religious leaders have long complained that the Johnson Amendment restricts their free speech. Trump would need an act of Congress to repeal the law. 
Trump's address to faith leaders came as the administration cracks down on U.S. policy for admitting refugees and after Trump nominated a justice for the Supreme Court, Appeals Court Judge Neil Gorsuch, that he has promised is opposed to abortion. The speech was unconventional from the start, as Trump used his opening comments to joke about the politics of the Senate chaplain and television ratings for "The Apprentice," the reality show the president starred in and produced.
"I don't even know if you're Democrat or if you're Republican but I'm appointing you for another year," Trump said to the chaplain, Barry Black, after he delivered an opening address. "The hell with it."
Members of the Senate select their chaplain, not the president.
Trump also used graphic language as he described Islamic State militants beheading Christians and drowning people in steel cages.
Television producer Mark Burnett introduced Trump at the breakfast by telling the story of how "Celebrity Apprentice" was created. Trump hailed the "tremendous success" of the show while he was the star, but couldn't resist a shot at his successor.
"They hired a big, big movie star, Arnold Schwarzenegger, to take my place and we know how that turned out," he said. "The ratings went right down the tubes. It's been a total disaster."
Trump called on the audience to pray for Schwarzenegger "and those ratings."
Schwarzenegger, who has been in a running feud with Trump over the show's ratings, posted a response in a video on Twitter.
"Hey Donald, I have a great idea," Schwarzenegger said. "Why don't we switch jobs. You take over TV, because you're such an expert in ratings, and I take over your job. And then people can finally sleep comfortably again."
— With assistance by Margaret Talev
Before it's here, it's on the Bloomberg Terminal.
LEARN MORE