Trump Might Nudge Sneaker Jobs Home, but Mainly for Robots
Using more U.S. plants "would seem to be politically prudent."
By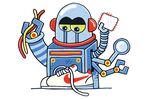 Sneaker makers, led by Nike, were among the most vocal supporters of the Trans-Pacific Partnership trade pact. They had good reason to be: Companies including Nike, Adidas, and Under Armour could have saved $450 million from tariff reductions in just the first year of the deal, forecast the Footwear Distributors and Retailers of America.
Now with President Trump blowing up trade pacts—he nixed U.S. participation in the TPP during his first week in office—and lambasting companies that import a lot of their products, sneaker makers could find themselves on the receiving end of a Trump Twitter tirade.
That has industry players, who import almost all their sneakers from low-cost locales in Asia, talking about their efforts to switch more production to the U.S. Already, they've been looking in recent years for ways to bring some manufacturing home but for a far different reason than avoiding political heat. Manufacturing closer to big markets such as the U.S. would lower the time it takes to get products to market.
Now, in the Age of Trump, high-profile sneaker makers' efforts to manufacture at home could also help deflect Washington's attention from the fact that they overwhelmingly are in the business of designing and marketing made-in-Asia footwear and apparel for American consumers. According to Nike's website, its products are manufactured by almost 1.1 million workers in 645 factories located across 42 countries. About 400,000 of the workers are in Vietnam, with an additional 202,000 in China. Only 7,000 are in the U.S.
The TPP's tariff reductions would have freed up funds to speed a shift of production to America. Nike, for one, said it would use the money it would have saved if tariffs were eliminated on imports from Vietnam, its largest source of shoes, to accelerate investment in advanced manufacturing technologies. It said that could help shift enough production back home to let it and its manufacturing partners create as many as 50,000 U.S. jobs over a decade. Now footwear companies must hope for Trump and Congress to increase incentives for manufacturing onshore to speed up their made-in-America ambitions. "It's not a fatal blow by any means, but it certainly is a setback for the industry," says Matt Powell, a footwear analyst for consumer-products researcher NPD Group.
As they look to bring production back to the U.S., shoemakers are embracing a new kind of worker: robots. Sneakers, with lots of pieces stitched or glued together, are labor-intensive. That's one reason so many plants are located in low-wage nations. So automating is key for any shift.
Nike has developed a process of painting a shoe's midsole. The old, slow way requires applying tape to ensure paint goes only where it's wanted—much like painting your living room. The company developed a robot that can apply paint without taping and also enables new designs that can't be painted by hand.
Still, getting U.S. production to account for more than a tiny fraction of their global totals will be tough. Nike employs 1,300 at factories in Oregon and Missouri that construct air-filled soles that are shipped overseas to make finished shoes. That's peanuts compared with the factories it contracts within Asia. Nike says that despite the TPP's demise, it still plans to invest in advanced manufacturing to bring production to the U.S. And it welcomes the chance to "engage" the Trump administration on how the "new landscape" across tax and trade can support that, a spokesman says.
Under Armour opened a facility last year in Baltimore with the goal of bringing production to the U.S. Chief Executive Officer Kevin Plank, who's met with Trump, said the initiative will create "tens of thousands of jobs." In late 2016 the company had a limited release of a shoe with a 3D-printed sole that's made in New Hampshire.
Adidas says it will open a facility near Atlanta in 2017 that will use robots to make running shoes. It expects to turn out 50,000 pairs this year and could push that to half a million over time. For perspective, Adidas produces more than 300 million pairs of shoes a year. "It's a drop in the bucket," says Powell, the NPD analyst. "I don't see a day where we'll be making shoes in the U.S. at a commercial scale."
Even if many shoe factories were to get built in the U.S.—a questionable prospect, since sneaker makers depend mostly on contract manufacturers that typically don't operate in the U.S.—the plants would be so automated that most of the jobs they'd bring would likely go to industrial robots or 3D printers, not people. Adidas, for example, says its upcoming "speed factory" in the Atlanta area will initially employ only about 160 people. And Under Armour used just a dozen workers to make its 3D-printed shoes in New Hampshire.
Returning U.S. production "will drive jobs in other forms, maybe not factories of hundreds of thousands of people, but you will have hundreds of people running the factory, distribution, sales and marketing, retail, and delivery," says Michael Raphael, founder of Direct Dimensions, a 3D-services company working with Under Armour. "You will also have a whole supply chain that has to feed this."
In the current environment, however, the job numbers may not matter as much as the bigger made-in-America story. Says Caitlin Webber, a trade policy analyst with Bloomberg Intelligence: "To the degree that companies can emphasize their U.S. operations and U.S. manufacturing, that would seem to be politically prudent."
The bottom line: U.S. shoemakers expected $450 million in tariff cuts in the first year of the TPP. It's dead, but they still plan to add U.S. jobs.
Before it's here, it's on the Bloomberg Terminal.
LEARN MORE