Trump Slams 'Dumb Deal' With Ally Australia After Testy Call
By
U.S. has been Australia's most important ally for decades

Washington Post says Trump 'abruptly ended' phone call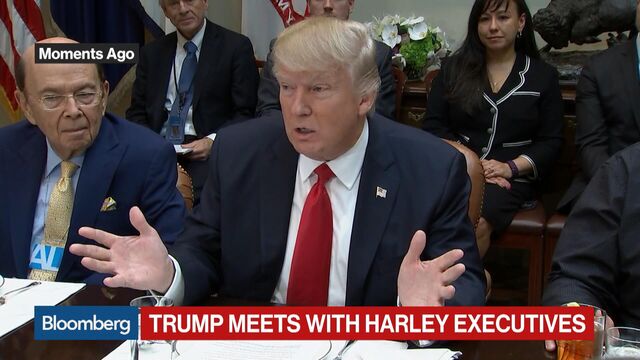 President Donald Trump blasted a refugee resettlement deal with Australia in a late-night tweet, throwing the fate of more than 1,000 displaced people and the U.S.'s relationship with a key ally into doubt.
"Do you believe it? The Obama administration agreed to take thousands of illegal immigrants from Australia. Why? I will study this dumb deal!," Trump tweeted. The resettlement plan involves sending refugees being held by Australia in offshore camps, many of them from the Middle East or South Asia, onto the U.S.

The message came after Prime Minister Malcolm Turnbull defended his relationship with Australia's biggest ally in the wake of a Washington Post report that Trump berated him over the deal. Trump "abruptly ended" a phone call with the Australian leader on Jan. 28 after 25 minutes even though they had been scheduled to speak for an hour, the paper said. It cited unidentified U.S. officials who were briefed about the conversation.
During the call, Trump labeled the resettlement plan "the worst deal ever," the paper reported. The president told Turnbull he had spoken to four other global leaders that day, including Russian President Vladimir Putin, and "this was the worst call by far," it said.
In a radio interview on Thursday after Trump's tweet, Turnbull said he still expects the deal will go ahead. He added he was "very disappointed" over the leak and said the call with Trump ended "courteously."
"The question is, will he commit to honor the deal, and he has given that commitment," Turnbull said. The call with the president was "very frank and forthright," he said, declining to give further details.
Read more: Who are Australia's asylum seekers? -- a Q&A explains
Earlier in the day when asked about the Washington Post report, Turnbull described Australia's relationship with the U.S. as "very strong."
Trump adviser Kellyanne Conway, asked on Fox News on Thursday whether she thought the State Department leaked details of the call, said the leaks didn't come from the White House and that by subsequently tweeting about the "dumb deal," Trump was going around the media directly to the people to tell them he gets results.
Since taking office nearly two weeks ago, Trump and his senior officials have lashed out at several leaders, criticizing Japan, Germany and China for their trade and currency policies and signaling a more disruptive approach to America's relationships -- even if a country is a long-term ally.
'Deeply Unsettling'

Late Wednesday, a Mexico presidential spokesman denied Trump told President Enrique Pena Nieto over the phone he might send U.S. troops into Mexico, and said there was no threatening tone on the call. Earlier the Associated Press cited an excerpt of a transcript in reporting that Trump told Pena Nieto he could dispatch U.S. soldiers to deal with "bad hombres" unless Mexico's military could better control them.
Australia is the only country to have fought in every conflict with the U.S. since World War I, and is currently flying combat missions in Syria. Former President Barack Obama heralded Australia as a vital link in his pivot to Asia, a policy that was seen as a counterpoint to China's rising influence. In 2011, Obama secured a deal to base as many as 2,500 Marines in the northern Australian port of Darwin.
QuickTake What You Need to Know About Trump's Refugee Ban
"A lot of Australians will find this report deeply unsettling," said John Blaxland, a senior fellow at the Australian National University's Strategic and Defence Studies Centre in Canberra. "Australia has invested in this relationship and has been a faithful partner, especially since the declaration of the global war on terror. Trump needs Australia to support its interests in the Asia-Pacific."
Fleeing War
In 2012, Australian lawmakers moved to deter asylum seekers from countries like Syria and Afghanistan from attempting to reach the country by boat, often on sub-standard fishing vessels via people smugglers in Indonesia. Detained asylum seekers were sent straight to camps on Papua New Guinea or the South Pacific island of Nauru.
More than 1,200 refugees are being been held on Papua New Guinea's Manus Island and Nauru under the policy, which has been condemned by human rights groups. Turnbull announced in November the U.S. had agreed to resettle those who receive refugee status.
Since taking office, Trump has clamped down on immigration from more than seven mostly-Muslim countries. Australian leaders have received mixed signals over whether Trump would honor the deal reached in Obama's final days in office.
Trump had given an assurance the agreement would proceed, Turnbull said on Thursday. The day before, Michael Anton, a spokesman for the White House National Security Council, said the president was still evaluating it.
— With assistance by Elizabeth Titus
Before it's here, it's on the Bloomberg Terminal.
LEARN MORE