Snap Asks Non-Voting Investors to Focus on Vision, Not Losses
by
Loss widened to $515 million in 2016 from $382 million in 2015

IPO investors only offered non-voting shares in company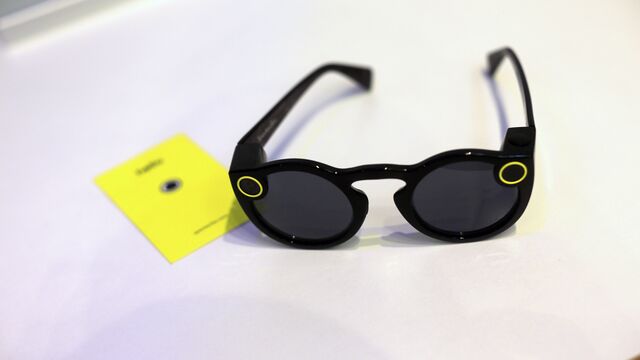 The veil has been lifted on how much money Snap Inc. is losing as it pushes ahead with plans to make money from capturing the attention of millennials.
Snap posted a net loss of $515 million last year, according to the company's initial public offering prospectus, shelling out cash to infrastructure providers including Alphabet Inc.'s Google and for research and development. That compares with a loss of $382 million the previous year. Revenue for 2016 was $404 million.
As a private company, Snap has benefited from a funding environment that valued growth over profitability. A chart showing increasing revenue or engagement meant easy access to capital. But large losses may ring warning bells for investors who have been burned by past bets on unprofitable companies that went public.
Snap filed with an initial size of $3 billion, a placeholder amount used to calculate fees that may change. It will seek to raise as much as $4 billion in the IPO, people familiar with the matter have said, for a market value of as much as $25 billion. The company plans to use proceeds from the offering for general corporate purposes, which may include acquisitions, the filing shows.
Innovation, Risks

The filing depicts a budding and inventive company, aiming to build a booming advertising business around young people, an elusive set of smartphone addicts, deeply engaged in its product.
It also warns of mounting challenges to further growth: stiff competition, slowing user growth, and mounting losses that may remind investors of once-ascendant, now-struggling companies such as Twitter Inc.
"We have a short operating history and a new business model, which makes it difficult to evaluate our prospects and future financial results," Snap said in the Thursday filing. That "increases the risk that we will not be successful."
The company's strategy in the face of those circumstances "is to focus on innovation and take risks to improve our products."
In the meantime, Snap is focusing investors' attention on its track record for developing catchy products. Through colorful graphics in the IPO prospectus, the company highlights its daily active user count of more than 150 million as well as ad-attracting offerings including Lenses and Geofilters.
Snap cites engagement as key to future success, at the same time admitting that metrics to measure the company's reach -- such as daily active users -- have been and will continue to be "lumpy and unpredictable."
Quarterly average revenue per user on a global basis, a key metric showing how the company makes money from user engagement, climbed to $1.05 in the fourth quarter of 2016 from 31 cents in the year-earlier period.
No Vote
How much risk investors are willing to stomach could be affected by a unique feature of Snap's IPO -- it could be the only listing of non-voting stock on a U.S. exchange, according to the prospectus.
That means the glory, or the blame, will be at the feet of founders Evan Spiegel, the chief executive officer, and Bobby Murphy, the technology chief, who have control over shareholder votes and strategic vision.
The public life of Twitter, the last U.S. social-media company to go public in 2013, will cast a shadow on Snap's debut. Twitter's IPO prospectus disclosed widening quarterly losses, and the micro-blogging site didn't grow fast enough to address the problem. Three years later, it's still not profitable.
Amazon Wannabe
Privately, Snap's management has likened the business model more to Amazon.com Inc. In a move straight out of Amazon founder and CEO Jeff Bezos's playbook, Snap wants to shift investors' focus to the company's long-term vision.
Bezos has invested heavily to enter new markets, at times alarming investors with extensive spending to that end. While some gambits have been successful and others duds, it's worked out favorably for investors who've stuck around for the long haul: Shares are up almost 43,000 percent since the company went public in 1997, and 2,100 percent in the past 10 years, according to data compiled by Bloomberg that accounts for stock splits.
Spiegel has fewer successes to point to when asking investors to buy into his long-term plans, and a different set of challenges.
Google Cloud
Unlike Amazon, Snap relies on another company's infrastructure. Google provides most of its computing, storage and bandwidth, and any disruptions to Google's cloud functioning could "seriously" hurt its business. Snap said it plans to spend $2 billion with Alphabet over the next five years to use Google's cloud-computing services.
In terms of competition, the barrier to entry for social media and communications is lower than Amazon's e-commerce business or cloud-computing services. In addition to Google and Apple, Snap named Facebook Inc., including its WhatsApp and Instagram applications, and Twitter as significant rivals.
The IPO prospectus is the first opportunity for outsiders to get a closer look into a company that's known for, among other things, its culture of secrecy. The next step will be the roadshow, in which Spiegel and his management team will endeavor to explain the company's strategy and prospects to potential investors.
Benchmark Capital holds 12.7 percent of Class A shares and 22.8 percent of Class B shares, for a total voting power of 2.7 percent before the offering. Lightspeed Venture Partners holds 8.3 percent of Class A shares and 15 percent of Class B stock, for total voting power of 1.8 percent.
MORE: Goldman Sachs has won an extra, coveted role on the IPO
Morgan Stanley and Goldman Sachs Group Inc. are leading the offering with JPMorgan Chase & Co. and Deutsche Bank AG. Barclays Plc, Credit Suisse Group AG and Allen & Co. are also on the deal.
Snap plans to list its Class A shares on the New York Stock Exchange, under the symbol SNAP.
Before it's here, it's on the Bloomberg Terminal.
LEARN MORE