Netanyahu Pledges to Build New Settlement, Add to Rest
By and
Israeli police drag away last holdouts from West Bank outpost

Knesset to vote on bill legalizing unauthorized outposts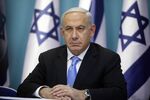 Prime Minister Benjamin Netanyahu said he would erect Israel's first new settlement in a quarter-century and build thousands of homes across the West Bank as security officers evacuating an unsanctioned settler outpost dragged away the last holdouts.
After a freezing night of confrontation at Amona, a hilltop near the Palestinian city of Ramallah where 40 Israeli families were forced from ramshackle mobile homes, Netanyahu called on the settlers to compromise.
"We are all witness to the great pain of the families that have been forced to leave their homes, uproot their lives," he said in Ariel, an authorized settlement about 20 miles north. "Therefore we will establish a new settlement" and "strengthen the others," he said.
Israel has announced plans to build more than 6,000 apartments on land Palestinians claim for a state since the Jan. 20 inauguration of U.S. President Donald Trump, who has promised to be more supportive of the Jewish state than his predecessor.
Jerusalem Embassy
Such proposals were frequently denounced by the Obama administration during eight years of friction with Netanyahu. Trump hasn't condemned them, and his administration is studying a controversial campaign pledge to move the U.S. embassy to Jerusalem, which both Israelis and Palestinians want as their capital.
The Palestinian representative to the United Nations, Riyad Mansour, condemned the new construction plans in a letter to UN Secretary General Antonio Guterres, accusing Netanyahu of "blatantly exploiting transitions in the global political landscape."
Read more: Israeli Settlements Explained -- a QuickTake
The settlers' setback at Amona, ordered by the Israeli Supreme Court, was an anomaly on this political landscape. Israeli police on Wednesday evacuated most of the 40 homes there and removed hundreds of youths who came to support the settlers. Most activists sang and chanted against the operation but some hurled rocks and liquids at police officers. More than a dozen people were arrested, police spokeswoman Luba Samri said.
The last holdouts barricaded themselves inside Amona's synagogue. Police tried to persuade them to leave peacefully and then broke down the door to remove them, Samri said.
Retroactive Legalization
Several thousand Israelis live in unauthorized enclaves like Amona that were built without following formal procedures, though government officials often knew they were being erected and provided infrastructure hookups and military protection. In addition, Israel has built more than 120 authorized West Bank settlements, housing about 400,000 people, which it considers legal but which the United Nations Security Council last month deemed a "flagrant violation" of international law.
Netanyahu earlier this week pledged to advance a law that would provide a lasting arrangement for West Bank settlements by legalizing about 4,000 homes in unsanctioned outposts built on Palestinian-owned land. Construction on private Palestinian land -- as opposed to unclaimed land -- is prohibited under a 1979 Israeli Supreme Court ruling, and Attorney-General Avihai Mandelblit has said he can't defend some provisions of the bill against legal challenges. The bill is due to come up for a final parliamentary vote Feb. 6.
The legislation declares that the outposts were established in good faith under the belief that the land was not privately owned. It sets up a compensation system that would give Palestinian landowners alternative properties or an annual sum equal to 125 percent of the potential lease value. Palestinians describe the bill as a land grab aimed at facilitating Israeli annexation of the West Bank.
(
Corrects spelling of UN Secretary General's last name in sixth paragraph.
)
Before it's here, it's on the Bloomberg Terminal.
LEARN MORE