Khamenei Aide Says Iran Won't Yield to 'Inexperienced' Trump
by and
President Trump put Iran 'on notice' after missile test

Iran calls the U.S. comments baseless and provocative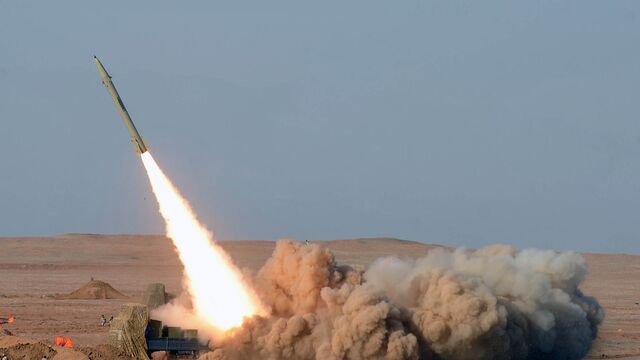 A senior adviser to Iranian Supreme Leader Ayatollah Ali Khamenei said the Islamic Republic won't be deterred by U.S. threats after President Donald Trump said Iran is "on notice" following its latest missile test.
Ali Akbar Velayati said the White House should realize that threatening Iran will not "be effective." He reiterated comments by other officials that the missile launch was for defensive purposes and didn't violate the nuclear accord with world powers. Iran will "vigorously continue its defense activities," he said, according to the state-run IRNA news agency. Tasnim, a semi-official news service, reported that Velayati referred specifically to "missile activities."
Trump, in Twitter messages on Thursday, said Iran "was on its last legs and ready to collapse until the U.S. came along and gave it a life-line in the form of the Iran Deal: $150 billion." He spoke one day after his National Security Adviser, Michael Flynn, said that Iran's missile launch showed it to be "in defiance" of the United Nations Security Council resolution that endorsed the 2015 nuclear accord.
Asked by a reporter Thursday if he would rule out a U.S. military response to the missile test, Trump said, "Nothing is off the table."
Although the launch was a medium-range, ballistic missile that fell within the Iran's borders, "it's something that is contrary to the Security Council resolutions against it and the agreements it's made," Navy Captain Jeff Davis, a Pentagon spokesman, told reporters Thursday.
Malign Influence
"Iran has a lot of things it is doing and has done that causes us concern," Davis said. "There's this common thread of malign influence with regard to Iran through the region," including the "harassment" of U.S. ships in the Persian Gulf.
While Iran's supreme leader usually prefers "to respond to threats by threats lest silence is interpreted as weakness," Iran will probably try to sound more measured in its reactions than the Trump administration, according to Ali Vaez, senior Iran analyst at the International Crisis Group. "The strategic imperative of winning the international blame-game is likely to prevail."
Emboldening Republicans
Trump's election victory appears to be emboldening Republicans who have long criticized the 2015 nuclear accord with a group of six world powers but were stymied in their efforts to undermine it by the Obama administration. The president attacked his two immediate predecessors' policies head-on. "Iran is rapidly taking over more and more of Iraq even after the U.S. has squandered three trillion dollars there. Obvious long ago!" he said on Twitter Wednesday night.
Republicans in the House announced plans for legislation targeting Iran's support for "terrorism, human rights abuses and ballistic missile program." Among other steps, the measure would impose new sanctions on Iran's Islamic Revolutionary Guard Corps and against people who "knowingly aid" its missile program. Similar legislation was previously introduced in the Senate.
Iran says the resolution in question only bars it from testing missiles that can deliver nuclear warheads, armaments it doesn't plan to obtain. Iranian missiles "aren't designed to be capable of carrying nuclear warheads," said Bahram Ghassemi, a Foreign Ministry spokesman. He called Flynn's comments "baseless, provocative and repetitive."
'Inexperienced Person'
Velayati, speaking to reporters on Thursday, described the recent U.S. remarks as "groundless ranting." He added: "This isn't the first time that an inexperienced person from America has threatened Iran."
Amir Handjani, a senior non-resident fellow at the Atlantic Council based in Dubai, said it's unlikely the Iranian military will stop its missile program in response to U.S. pressure.
"Expect further testing as Iran is not going to back down and expect an escalation of rhetoric from both sides," he said.
Beyond its tougher words, the Trump administration didn't offer details of what policy or military options it may be considering. An administration official, who asked not to be identified, told reporters afterward that there are a range of options available to counter Tehran's actions.
Former Central Intelligence Agency Director David Petraeus, testifying to the House Armed Services Committee on Wednesday, said ending the nuclear deal would leave the U.S. isolated. He suggested Congress and the White House consider making a statement of national policy that Iran won't be allowed to enrich uranium to weapons grade instead.
Iran's Economy
After a decade of isolation under U.S.-led international sanctions, Iran last year began seeing greater interest from businesses and banks in its $370 billion economy as the nuclear deal took affect. But the agreement didn't unwind all U.S. sanctions, and Iranian officials have repeatedly complained that many foreign companies and banks remain reluctant of running afoul of those restrictions, limiting new investment.
"Some had hoped that the nuclear agreement would lead to a revival of the Iranian economy," Capital Economics wrote in a note on Thursday. "But the uncertainty created by the new US administration's stance towards the Islamic Republic means some of the planned investment in the country will probably be postponed (or may never happen)."
Before it's here, it's on the Bloomberg Terminal.
LEARN MORE