markets
ING Profit Rises on Wholesale Bank, Beating Estimates
By
Dutch bank lifts dividend, warns of political risks to Europe

Lender books 1.14 billion euros in restructuring changes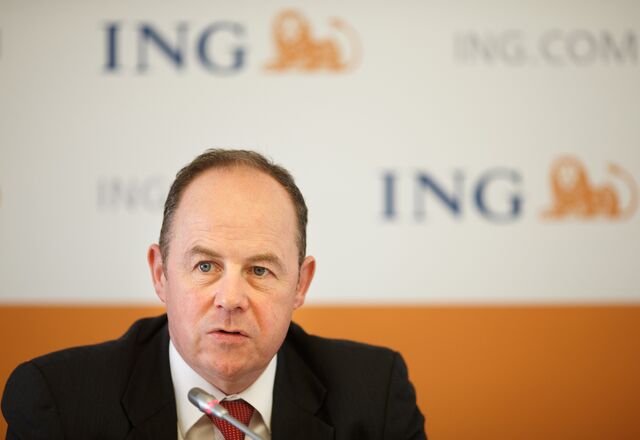 ING Groep NV, the largest Dutch lender, said profit jumped 68 percent, more than analysts expected, as wholesale lending revenue rose while costs and bad-loan provisions fell.
Underlying profit rose to 1.38 billion euros ($1.49 billion) in the fourth quarter from 822 million euros in the previous year, the Amsterdam-based bank said in a statement Thursday. That beat the 1.15 billion-euro average estimate of six analysts surveyed by Bloomberg. Wholesale banking, which includes trading and lending to large firms, generated 553 million euros, almost twice last year's result.
ING, which pioneered online banking two decades ago, is now among large European lenders stepping up digital investments and trimming costs as the use of smartphones to manage money becomes commonplace. Chief Executive Officer Ralph Hamers is seeking 900 million euros in annual savings over the next five years, in part through the elimination of as many as 7,000 jobs, or 13 percent of the workforce.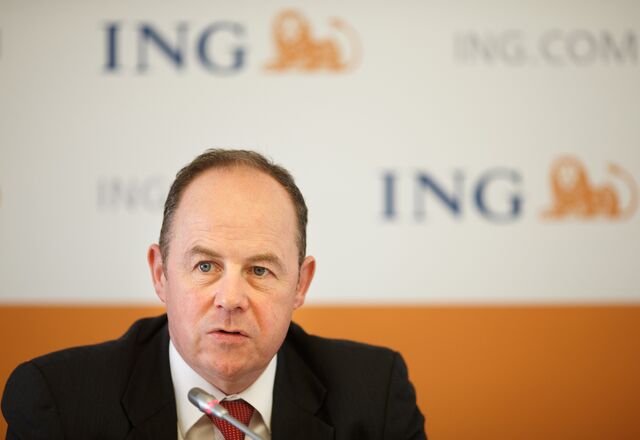 "ING continues to surprise positively with all segments delivering better results," Citigroup Inc. analysts including Stefan Nedialkov said in a note.
Within wholesale banking, ING's capital-markets and treasury-management businesses benefited from "increased client activity" especially in equities, foreign-exchange and debt trading. Revenues from corporate lending rose 15 percent from a year ago as bad-loan provisions at the business fell to 2 million euros from 63 million euros, the bank said.
The stock rose as much as 2.1 percent and was 1.6 percent higher at 2:07 p.m. in Amsterdam, while the STOXX 600 Banks Index was down 0.2 percent. ING has gained 37 percent over the past 12 months, giving the bank a market value of about 53 billion euros.
ING gets two-thirds of its revenues from consumer banking, with branch networks mainly in the Netherlands and Belgium and mobile-banking services in other countries including Germany. Income from interest and commissions was little changed at its Benelux consumer-banking units, coming in at 1.39 billion euros and 223 million euros respectively, the bank said.

Hamers reiterated the bank's guidance for lending growth between 3 percent and 4 percent, emphasizing the need to make returns from new loans. It is "not sure that we have seen the worse of margin pressure in Belgium" and ING needs "to improve efficiency," he told analysts on a call.
While the threat of a euro-area break-up has diminished since the region's sovereign debt crisis in 2011, ING seeks to manage its assets and liabilities on a country-by-country basis in order to reduce such a risk, Hamers said. The bank, which has simulated euro break-up scenarios, has also advised some multinational clients "to hedge more economically," Hamers said, without providing details.
Populist movements or candidates are high in opinion polls ahead of critical votes in the Netherlands in March and in France this spring. Clients increasingly are taking a "wait-and-see" attitude amid political risks that may hamper Europe's economic growth, Hamers said.
The lender plans to pay a 66-cent dividend for 2016 and maintained its dividend targets, the bank said. ING booked 1.14 billion euros in one-time charges related to digital changes and job-cutting plans announced in October.
"Putting clients first, digital first, is clearly working," Chief Financial Officer Patrick Flynn said in an interview with Bloomberg Television. ING is not expecting any quick increase in interest rates and "the impact in our results will feed in very slowly."
Net income fell 8.4 percent to 750 million euros, beating analyst estimates for 376 million euros. The bank said revaluations of its warrants in NN Group NV and Voya Financial Inc., two assets offloaded in recent years, lifted the result. Operating expenses fell 6.7 percent to 2.37 billion euros from a year ago.
Before it's here, it's on the Bloomberg Terminal.
LEARN MORE