U.S.-China War Over Sea Reefs Won't Happen, Philippines Says
By and
Philippines Defense Secretary speaks in interview in Manila

Questions whether U.S. can block China in disputed waters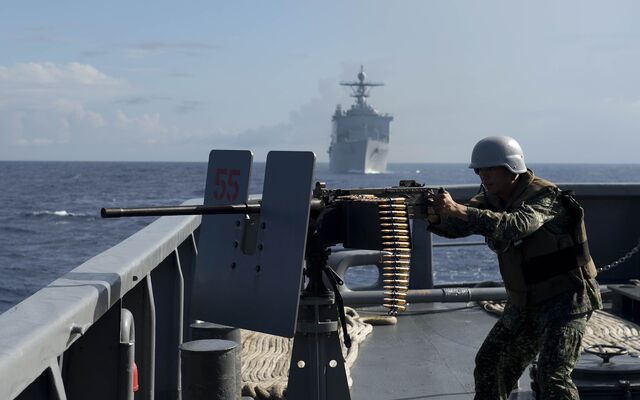 Fears that U.S. President Donald Trump will start a war with China over disputed territory in the South China Sea are overblown, according to Philippine Defense Secretary Delfin Lorenzana.
"I don't think it will happen," Lorenzana, 68, who spent more than a decade as defense attaché and war veteran's representative in Washington, said in an interview at his Camp Aguinaldo headquarters in Manila on Thursday. "Trump is a businessman and he knows that if war breaks out, businesses will suffer."
Newly confirmed U.S. Secretary of State Rex Tillerson drew a sharp rebuke from Beijing last month when he said the U.S. would seek to prevent China from accessing facilities it built on artificial reefs in the South China Sea. Lorenzana questioned whether that was even possible, saying: "How can you prevent something that's already there?"
The Philippines has shifted toward China and Russia under President Rodrigo Duterte, undermining a security alliance with the U.S. that has endured since World War II. Both nations have pledged to support the Philippines as it embarks on a push to modernize its military to catch up with its neighbors over the next decade.
The Philippines and China are among six claimants to disputed territory in the South China Sea, a key trade route that also contains oil and gas reserves. After years of pushing back aggressively against China's claims -- including a victory before an international tribunal last year -- Duterte has adopted a softer approach toward China, which has a much stronger military.
'Small Islands'
"I'm not going to wage war over those small islands," Lorenzana said. "Even if we have the military might, we will also think twice before we engage in a shooting war," he said.
Lorenzana will ask Congress for a defense spending increase of up to 2.5 percent of gross domestic product from the current 1.5 percent, which is around half what most of the Philippines' neighbors currently spend.
The government will spend a further 85 billion pesos ($1.7 billion) on a five-year military upgrade starting in 2018 that will enable the Philippines "to close the gap" with peers in the region, and meet challenges arising from China's growing presence in the South China Sea, Islamic State and Duterte's war on drugs, Lorenzana said.
While pledging to stay neutral if tensions between the U.S. and China continued to escalate in the South China Sea, Lorenzana decried a recent incursion by a Chinese survey ship off the coast of Surigao in the southern Philippines earlier this year.
China Criticism
"What is a survey ship doing there, staying in one place for days?" the defense secretary said. "That is not an innocent passage," he said, recalling that he urged Foreign Secretary Perfecto Yasay to lodge a formal protest. Yasay did not reply to a request for comment on the incident.
Lorenzana said it's important for the Philippines to speak up against Chinese incursions in its waters after an international tribunal ruled last year that China's claims to more than 80 percent of the South China Sea had no legal basis. The case was brought by the Philippines.
"We are not abandoning our claim in South China Sea," Lorenzana said. "We have two hard documents favoring us. They have nothing except their imagination."
Still, there is a foundation for greater cooperation between the countries. After an October visit to Beijing during which he secured a grant of $14 million and a loan of $500 million for defense purchases, Duterte will ask China for fast boats, drones, night goggles and close quarter weapons.
For more on China's territorial disputes, click here.
Like Duterte, Lorenzana supports joint mineral exploration with China in the disputed waters of the South China Sea, and he signaled that his plans to visit a Philippine outpost in the waters within the first half of this year shouldn't be misinterpreted.
A likely visit by Duterte to Moscow in the next few months could also open the door to defense purchases from Russia, Lorenzana said. Duterte's shopping list includes attack helicopters and the possible acquisition of a Russian-made Kilo class submarine.
On Wednesday, the U.S. Embassy in Manila announced that it had delivered new military equipment to the Philippines including 400 grenade launchers, 85 sniper rifles and a RQ-11B Raven unmanned aerial vehicle system consisting of 3 drones for exclusive use and ownership of the Philippine Armed Forces.
Before it's here, it's on the Bloomberg Terminal.
LEARN MORE