Dollar Pares Drop, Risk Appetite Subdued Ahead of Jobs Data
By
NFP is potential fresh driver as Trump trade falters

Much maligned ADP/NFP correlation has gotten better recently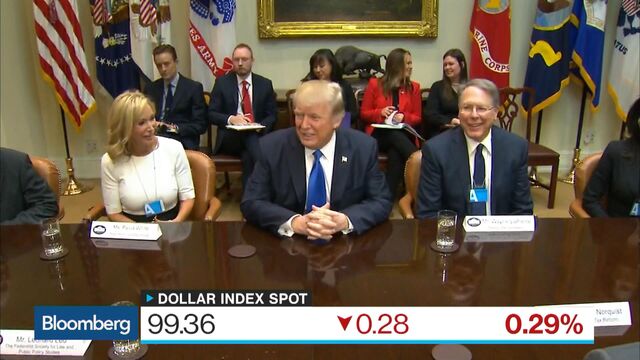 The dollar's fixation with Treasury yields remained intact as it pared losses ahead of January jobs data to be released Friday, with the market looking for fresh trading cues after the "Trump reflation" trade appears to have either run out of steam or run its course.

Traders are seeking a decisive catalyst for the next round of positioning as dollar sentiment eroded this week following remarks from President Trump and an aide that the dollar was overvalued. With Treasury Secretary-nominee Mnuchin not yet confirmed, traders and investors are unsure whether the administration is seeking to weaken the dollar or whether the recent remarks represent rookie missteps in the absence of a central spokesman for FX policy.
Without clearer guidance, trader appetite is somewhat muted, though fast-money accounts and model-driven funds have built dollar shorts, said a trader in London who asked not to be identified because not authorized to speak publicly. A strong jobs report Friday would have the potential to reignite bullish dollar sentiment while a weaker outcome may cement perceptions that the dollar is likely to remain on the back foot in the near term.
Longer-term players, more focused on economic fundamentals than politics, have yet to significantly implement dollar-buying programs even as the dollar approaches levels that had been deemed attractive just a few weeks ago.
Non-farm payrolls are expected to rise by 175k, though Wednesday's ADP report showing private payrolls rose 246k may present some upside risk to the jobs report given the recently closer correlation between the two reports.

The Bloomberg dollar index is down about 0.2% after dropping as much as 0.6%; the USD is lower vs most of its G-10 peers other than GBP, which fell sharply amid profit-taking after the BOE left rates and policies on hold
EUR/USD rose to 1.0829 before long-standing real-money offers layered from 1.0830 to 1.0850 capped the move, said a trader in London
Traders cite the Dec. 8 high at 1.0874 as key technical resistance for the pair
USD/JPY is trading at ~112.78 after falling to a fresh low at 112.06 before profit-taking and option-related bids cushioned the drop; USD fell to 112.08 Tuesday before a snapback to near 114.00 Wednesday, making levels ahead of 112.00 attractive for taking money off the table, a New York trader said
Before it's here, it's on the Bloomberg Terminal.
LEARN MORE