Daimler Sacrifices Short-Term Profit in Mercedes Spending Push
By
Research spending set to rise to 8.1 billion euros a year

Carmaker pushes development of autonomous, electric cars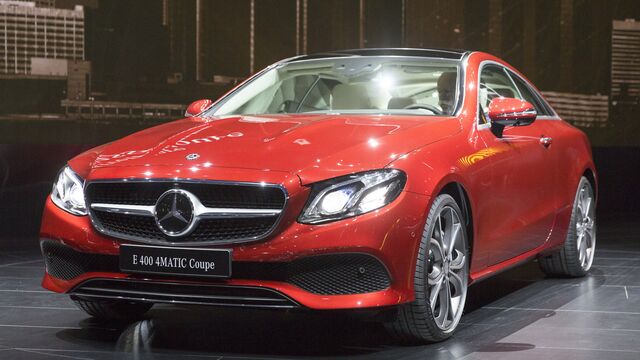 Daimler AG signaled that spending for the future would take priority over short-term earnings gains as it issued a tepid profit forecast for 2017 and vowed to increase its aggressive investment into self-driving, electric cars.
Even as the Mercedes-Benz unit generates record sales on new models like the GLC sport utility vehicle, the German auto group's profit will rise only "slightly" this year after a 2 percent dip in 2016, the Stuttgart-based company said on Thursday. The cautious forecast shows the pressure to boost spending as Mercedes prepares to roll out at least 10 electric vehicles and works to stay ahead of intensifying competition from newcomers like Tesla Inc. and established rivals such as BMW AG.
"In the coming years, we want to actively shape mobility with groundbreaking innovations," Daimler Chief Executive Officer Dieter Zetsche said. "Those who wish to shape the future of the automobile at the forefront of the automotive industry need both financial strength and innovative skill."
Daimler, which traces its roots to the inventors of the automobile, is seeking to set the pace as cars start driving themselves and regulators demand cleaner vehicles. That requires the manufacturer to invest in technologies with an uncertain payoff. Consumers have thus far balked at battery-powered models because of costs and charging concerns, and it's unclear to what extent customers will pay for automated-driving and connected-car features.
'Conservative' Forecast
After overhauling Mercedes's lineup in recent years, which revitalized the brand's stodgy image and lifted its sales to the top of the luxury-car segment last year, Daimler is planning to push even harder. Research and development spending will rise to 8.1 billion euros ($8.8 billion) on average this year and next. That's 22 percent more than the level in 2015, which the company said was already "very high."
"Mercedes's position as number one isn't set in stone," said Frank Biller, a Stuttgart-based analyst at LBBW, describing the 2017 outlook as "conservative but prudent" in the light of pressures ahead. "They'll defend the top spot this year, but next year there'll be more tension."

Daimler shares fell as much as 4.2 percent and were 2.9 percent lower at 68 euros at 12:29 p.m. in Frankfurt trading. The company's fourth-quarter adjusted operating earnings rose 3 percent to 3.58 billion euros, missing the average analyst estimate of 3.74 billion euros.
Profits at the truck unit dropped 47 percent due to weak demand in North America and "intense competition" in Europe. The unit is targeting cost savings of 400 million euros over the next two years to help boost profitability.
The trucks slump was more than offset by a 22 percent jump in fourth-quarter profit at the cars unit. Mercedes is coming off a milestone year. The brand's sales rose 11 percent to 2.08 million vehicles in 2016, allowing it to outsell BMW for the first time in more than 10 years. Mercedes's comeback was fueled by plugging holes in its lineup with new SUVs and compacts.
Now that the obvious gaps have been filled, Daimler faces the challenge of maintaining its lead as rivals BMW and Audi pursue their own revamps. That puts pressure on the CEO to show that the recent sales surge wasn't a fluke even as he guides the company into an era of electric-powered robo-taxis.
"We have great staying power from our financial success to build our future business," Zetsche said. "We expect we'll keep our nose ahead" at least until the end of the decade.
Before it's here, it's on the Bloomberg Terminal.
LEARN MORE