Cadillac Is Huge in China
The once-dominant luxury car maker might not turn heads at home, but Chinese consumers appreciate its "long heritage and pedigree."
Bloomberg News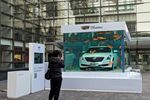 General Motors has been spending billions of dollars on Cadillac, trying to recapture the magic that made the name synonymous with luxury in the U.S. for almost 60 years. There are signs the effort is finally paying off—in China.
Aggressive advertising and a hot new entry, the XT5 sport-utility vehicle, helped Cadillac push past Lexus to become China's No. 4 luxury car brand last year, as annual sales jumped 46 percent, to 116,000. While German luxury brands, led by Volkswagen's Audi, have 75 percent of China's market for upscale vehicles, challengers such as Cadillac, Lexus, and Jaguar Land Rover are making inroads, says Michael Dunne, president of consulting firm Dunne Automotive in Hong Kong. Cadillac enjoys some American swagger on the mainland, thanks to the popularity of GM's Buick brand and the local admiration for U.S. icons such as Starbucks, Apple, and Nike. That's given Cadillac a boost while it struggles to revive its lagging business at home. In America, Caddy sales fell 3 percent last year despite a record auto market, and its "Dare Greatly" ad campaign hasn't done much to counter its second-tier image among affluent baby boomers. "The brand is recognized in China as having long heritage and pedigree," says Cadillac President Johan de Nysschen. "It is also seen as fresh and new. Its U.S. history has had its ups and downs."

Mostly down. Cadillac's U.S. sales peaked in 1978 at 347,000 vehicles. Quality issues and cars that looked too much like Chevrolets and Buicks eroded the brand's value until it lost its upscale sales crown to Ford's Lincoln in 1998. Boomers then started a love affair with Toyota's Lexus brand and German nameplates including BMW and Daimler's Mercedes, which have battled it out ever since. Cadillac sold 170,006 vehicles in the U.S. in 2016, less than half the 374,000 Mercedes did.
GM is lavishing $12 billion on new Cadillac models that it will sell globally by 2020. Several are SUVs, favored by American and Chinese luxury buyers. While it offered to buy out more than 40 percent of its 925 U.S. dealers last year, Cadillac plans to almost double its dealership count in China, to 300, in the next few years.
That's why GM was comfortable opening a $1.2 billion plant in Shanghai in 2016 to build the new CT6 sedan and XT5 SUV. Starting production on the mainland helped to jump-start growth because the locally built vehicles avoid China's 25 percent import tariff, which, when added to the country's 17.5 percent value-added tax, made Caddys too pricey for many buyers. Dunne says the construction of the plant also convinced many Chinese buyers that Cadillac is committed to the market and will be there to support its customers and provide service and parts.
Discounting has been a main reason behind the brand's growth. One Cadillac dealer in Beijing, who asked not to be named, says his operation was discounting sedans by 15 percent to 20 percent last year. One of his promotions was called "5+1=6," which offered BMW 5 Series owners a deal to trade in their car for a Cadillac CT6 at a price of 1 yuan (15¢).
Yu Shichao, a 26-year-old founder of a health-care startup in Beijing, says he bought a CT6 in September at a 20 percent discount. While doing research on a BMW 730, he learned that a well-equipped CT6 in the U.S. can cost about the same as a BMW 7 Series. In Beijing he got the CT6 for the price of a cheaper BMW 5 Series. Buying the Caddy made him feel like a smart shopper, he says.
De Nysschen says there's been discounting by all automakers in China, especially as its domestic manufacturers have introduced lower-priced vehicles and global companies have built more factories locally to avoid tariffs and reduce prices.
Cadillac has particularly targeted young buyers on the mainland like Yu. The brand went for a gritty kind of cool several years ago with television ads that featured actor Brad Pitt with a goatee and his hair pulled back in a bun, driving an XTS sedan through San Francisco. And last year its "Dare Greatly" campaign, which showcases hip New York neighborhoods, ran in heavy rotation on Chinese television and the internet.
The youth approach seems to be working. De Nysschen says the average buyer in China is 33 years old. The average American Cadillac buyer is over 60, according to consultant Strategic Vision. "The German brands are somewhat ubiquitous" on the mainland, Dunne says. "Cadillac works hard to be different. People buying Cadillac can distinguish themselves."
"Dare Greatly" has been far less effective in the U.S., says Alexander Edwards, president of Strategic Vision. One ad runs 94 seconds online and is shot through the windows of a car rolling through a New York neighborhood while a narrator reads Theodore Roosevelt's inspirational screed "The Man in the Arena." The video never showcases a Cadillac and only reveals that it's pitching the brand when the logo appears at the very end.
For American luxury buyers who are happy with their foreign rides, that doesn't get the word out that Cadillac's cars are equal to anyone's, Edwards says. "Cadillac is doing a good job with product," he says. "But the communications are awful. They are not attracting new buyers the way they could."
De Nysschen puts a lot of the blame on a product line that's out of step with the U.S. market. Small and midsize SUVs are the industry's sweet spot, accounting for about 40 percent of U.S. vehicle sales today. Lexus and the German brands each sell three or more such SUVs in their showrooms. Cadillac has one.
For now, de Nysschen's emphasis is on selling Cadillacs at higher prices in the U.S., reestablishing the brand's luxury credibility before its upcoming models are released. He says average Cadillac selling prices in the U.S., adjusted for incentives, have risen about 7 percent in each of the last two years and now trail only Mercedes. "Long-term brand development is so important for this company," he says.
Yet, for all its inroads in China, rivals still question Cadillac's luxury cred. "I never underestimate any competitor," says Ian Robertson, head of global sales and marketing for BMW. "There are full-premium brands and near-premium brands. Cadillac is probably near-premium."
The bottom line: Cadillac, whose U.S. sales peaked in 1978, could see more of its cars sold in China than in the U.S. within five years.
— With assistance by David Welch, and Yan Zhang
Before it's here, it's on the Bloomberg Terminal.
LEARN MORE