Ukraine Starts Evacuating Eastern Town Where Battle Rages On
By
Buses with women and children leave Avdiivka, near Donetsk

Fighting is deadliest in weeks in conflict that began in 2014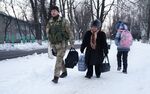 Ukraine began evacuating civilians from the eastern town at the center of the deadliest flare-up in fighting in 1 1/2 months between government forces and Russian-backed insurgents.
Two buses took mothers and children out of Avdiivka, about 20 kilometers (13 miles) from separatist stronghold Donetsk, and more vehicles are on standby, Fridon Vekua, a local administration official, said Wednesday by phone. A temporary cease-fire has been agreed to allow repairs to electricity and heating in the town of 22,000 where temperatures are well below freezing.
The upsurge in violence has killed eight soldiers since Sunday, including one in the past 24 hours following an assault by separatists using heavy weapons and rockets, the military said Wednesday. The rebels said two civilians were killed in the past day, blaming Ukraine for initiating the attacks.
There's no end in sight for the almost three-year-old conflict in Ukraine's easternmost regions, which has killed close to 10,000 people and poisoned ties between Russia and the West. The peace plan brokered by Germany, Russia and France in February 2015 hasn't been implemented. Despite the lack of progress, President Donald Trump has said he may consider relaxing U.S. sanctions against Russia over the conflict.
"The intense fighting around Avdiivka in the last few days, involving heavy shelling with proscribed weapons and leading to a considerable number of casualties, is a blatant violation of the cease-fire," according to a statement issued Tuesday by the European Union, whose own sanctions have been extended until at least mid-2017.
The U.S. State Department backed Ukraine's stance on the renewed violence, attributing it to "a combined Russian-separatist assault," and called for rebels to "recommit to the cease-fire" in a statement issued Tuesday. Kremlin spokesman Dmitry Peskov disagreed, saying Tuesday that Ukraine's military was engaged in "aggressive actions" after trying to retake territory in the Donetsk region.
The so-called contact group of Ukraine, Russia and the Organization for Security and Cooperation in Europe -- tasked with the practical implementation of the stalled peace accord -- is et to meet Wednesday in the Belarusian capital of Minsk to discuss the situation.
— With assistance by Aliaksandr Kudrytski
Before it's here, it's on the Bloomberg Terminal.
LEARN MORE