U.K.'s May Attacks Trump Travel Ban as 'Divisive And Wrong'
By
Defends her engagement with U.S. president despite protests

Doesn't deny she was briefed at White House on aspects of ban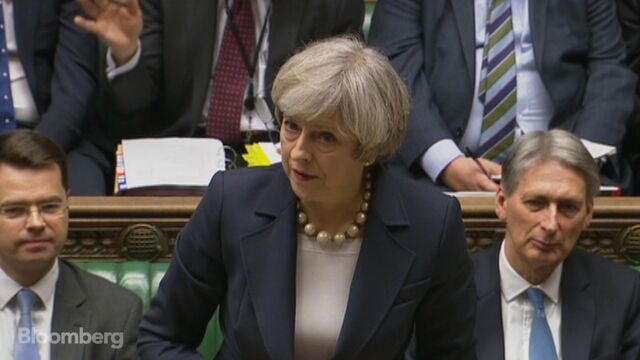 Theresa May told Parliament that Donald Trump's travel ban was "divisive and wrong," as she defended her decision to seek a close relationship with the new U.S. president.
The words were the strongest condemnation that the U.K. prime minister has used against the ban on refugees and travelers from seven predominantly Muslim countries. Still, she went on to argue that Britain's interests were best served by engaging with Trump as much as possible.
Read: Specter of Trade War Looms as Trump Puts 'America First'
"I have made very clear, very clear that we believe that this policy is divisive and wrong, that it is not a policy that we would introduce, and I have also made very clear when asked about this, that this government has a very different approach to these issues," May told Parliament on Wednesday.
However, she said it was right to visit Trump: "The job of government is to protect the interests of British citizens, and that is exactly what I did."
Answering questions from lawmakers, she denied being told about a ban on refugees, or that the travel ban would cover British citizens, but left open the possibility that she had advance notice Trump was about to announce travel restrictions.
"If he is asking me whether I had advance notice of the ban on refugees, the answer is no," she said. "If he is asking me if I had advance notice that the executive order could affect British citizens, the answer is no. If he is asking if I had advance notice of the travel restrictions, the answer is we all did, because President Trump said he was going to do this in his election campaign."
Of opposition Labour Party leader Jeremy Corbyn, she said: "He can lead the protests, I'm leading the country."
Before it's here, it's on the Bloomberg Terminal.
LEARN MORE