Senate Turns to DeVos as Two Republicans Oppose Her at Education
By
Collins, Murkowski announce opposition to Betsy DeVos

DeVos is first Trump nominee Democrats have a chance to block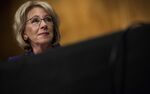 Republican leaders moved to speed up consideration of Betsy DeVos as President Donald Trump's education secretary after two GOP senators said they won't vote to confirm her, putting her nomination at risk.
With Republican Senators Susan Collins and Lisa Murkowski coming out Wednesday against DeVos, one additional GOP opponent could block her nomination, making her the first of Trump's nominees at risk of being defeated. 
Her outlook improved slightly late Wednesday after Senator Dean Heller, a Republican from Nevada who'd been seen as one possible holdout, issued a statement saying he would support DeVos.
Republican leaders quickly moved to tee up DeVos as the next nominee to receive a floor vote, holding a procedural vote on her nomination. Democrats could delay a vote until next week, unless the GOP keeps the Senate in all weekend.
Either way, her confirmation vote is coming before those of more high-profile nominees, including Alabama Senator Jeff Sessions to run the Justice Department. Given the opposition of Collins and Murkowski, Republicans now need Sessions's vote to confirm DeVos.
Most Democrats have already announced that they plan to oppose DeVos as well. If all Democrats are opposed, and the vote ends up 50-50, Vice President Mike Pence could cast the tie-breaking vote to confirm her. A single additional Republican defector would block her nomination.
"I have 100 percent confidence that she'll be the next secretary of education," White House press secretary Sean Spicer told reporters Wednesday after Collins and Murkowski spoke.
'Lack of Experience'
Both senators cited DeVos's lack of familiarity with public education, as well as doubts about her commitment to ensuring access to education for students with disabilities.
"I'm concerned that Mrs. DeVos's lack of experience with public schools will make it difficult for her to fully understand, identify and assist with those challenges," Collins said. "I will not, I cannot vote, to confirm her as our nation's next secretary of education."
The fight over DeVos shows an otherwise routine nomination that has become a flash point in a year when the two parties have diverged sharply over Trump's nominees. Earlier Wednesday, the Senate Finance Committee suspended its rules to advance the nominations of Steven Mnuchin to be Treasury secretary and RepresentativeTom Price to head the Health and Human Services Department -- both along straight party lines.
Added Murkowski of Alaska, "I think Mrs. DeVos still has much to learn about America's public schools."
DeVos's vision for public education includes religious academies; charter schools with for-profit management companies, including fully online operators; and specialized public schools. She is the daughter-in-law of Amway Corp. founder Richard DeVos. The stated philosophy of the multi-level marketing juggernaut based in a Grand Rapids suburb could apply to her brand of public education: "Personal opportunity and economic opportunity go hand in hand."
Thousands of Letters
Senator Patty Murray of Washington, the ranking Democrat on the education panel, has received 33,000 letters opposing DeVos, an aide said, and Senator Bob Casey of Pennsylvania reported getting 50,000. Murray in the hearing also criticized DeVos for submitting written answers to lawmakers Monday night that were "copied and pasted or simple reiterations of the law."
"There are very good reasons why she has become so controversial, why she has been panned across the country and why offices are being inundated with calls to oppose her," said Murray. "This nominee is being jammed through with corners being cut, and with the minority being brushed aside."
DeVos is a longtime Republican Party donor and activist. She was appointed in 2004 by then-President George W. Bush to the board of the Kennedy Center for the Performing Arts in Washington. She and her husband, Dick DeVos, president of the Windquest Group, donated $22 million to the center's program to train managers and boards of arts institutions, which carries their name.
— With assistance by Jennifer Epstein, and Steven T. Dennis
Before it's here, it's on the Bloomberg Terminal.
LEARN MORE