Trump Urges Senate to 'Go Nuclear' If Needed to Confirm Gorsuch
By , , and
President says Republicans shouldn't let Democrats block vote

Democratic lawmakers say they will fight Trump's nominee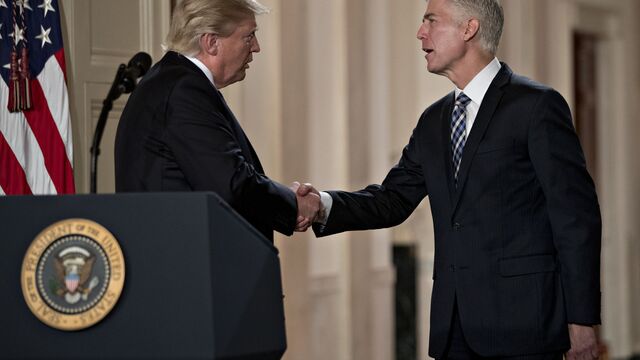 President Donald Trump urged the Senate majority leader Wednesday to "go nuclear" if needed to confirm Supreme Court nominee Neil Gorsuch over Democratic opposition.
"I would say, if you can, Mitch, go nuclear," Trump said at the White House Wednesday, referring to Majority Leader Mitch McConnell. "Because that would be an absolute shame if a man of this quality was caught up in the web. So I would say, it's up to Mitch, but I would say go for it."
Current Senate rules can require 60 votes to advance a Supreme Court nomination, meaning the 52 Republicans would need support from at least eight Democrats. Republicans have refused to say whether they would change the rule to let a justice be confirmed with a simple majority -- an action known as the "nuclear option."
Trump noted that Gorsuch, whom he nominated Tuesday to fill the late Justice Antonin Scalia's seat, was confirmed unanimously by the Senate to a federal appeals court in 2006.
"I think there's a certain dishonesty if they go against their vote from not very long ago," Trump said.
QuickTake on the U.S. Supreme Court
The nomination comes amid an outcry over Trump's order restricting travel by people from seven predominantly Muslim countries. The controversy is likely to put new focus on the constitutional curbs on presidential power -- and the Supreme Court's role in policing those limits -- as the Senate takes up the nomination.
Some Democratic lawmakers have vowed to fight the Gorsuch nomination, suggesting blocking Senate action with a filibuster if necessary.
Senate Democratic leader Chuck Schumer has said his party will oppose any nominee who is outside the legal mainstream. On Wednesday, Schumer said on the Senate floor that Democrats will ensure an "exhaustive, robust and comprehensive debate" on Gorsuch, including on whether he can stand up to Trump if he exceeds his executive authority.
"I have very serious doubts that Judge Neil Gorsuch is up to the job," Schumer said.
McConnell, appearing Wednesday on Hugh Hewitt's radio show, declined to say what Republicans would do if Democrats thwart a vote on Gorsuch. "I'm not going to answer the hypothetical question about how this may end, other than to say, Neil Gorsuch will be confirmed," he told Hewitt.
"All we're asking for is equal treatment," said McConnell, pointing to former President Barack Obama's first two nominees and not Merrick Garland, the Obama nominee whom McConnell blocked last year.
Gorsuch, 49, is a champion of religious liberty known for his crisp and, at times, pointed writing style. He has faulted liberals for an "overweening addiction to the courtroom." Educated in Ivy League schools and the University of Oxford, he has served on the federal appeals court in Denver since being appointed by President George W. Bush in 2006.

If confirmed, Gorsuch would in all likelihood largely track Scalia's voting pattern. He would become the youngest justice since 43-year-old Clarence Thomas joined the court in 1991.
Democrats will be hard-pressed to stop the nomination given the 52-48 advantage Republicans hold in the Senate. Under current rules Democrats need only 41 votes to filibuster the nomination and block a vote, but Republicans could eliminate the filibuster for Supreme Court appointments with a simple majority vote.
Legal Mainstream
Not all Democrats agreed with blocking a vote.
Senator Joe Manchin, the West Virginia Democrat, argued against his colleagues filibustering the nomination Wednesday on MSNBC and said "we need to go through the process" on Gorsuch. "Let's give the man a chance, talk to him. My goodness, don't shut it down before we even get started."
Gorsuch emerged relatively late in Trump's decision-making process. He wasn't on Trump's original list of 11 prospective justices released in May but was added as a part of a second list distributed in September. He impressed Trump during an interview that thrust him into front-runner status, a person familiar with the decision said before the announcement.
Trump chose Gorsuch over fellow federal appellate judges Thomas Hardiman, William Pryor and Raymond Kethledge.
U.S. Chamber of Commerce President Thomas Donohue, in a statement, congratulated Gorsuch and said, "The election is over and now it's time for the Senate to act."
Ilyse Hogue, president of abortion-rights group NARAL Pro-Choice America, said in a statement that Gorsuch "must never wear the robes of a Supreme Court justice" because he has a "clear track record of supporting an agenda that undermines abortion access and endangers women."
Assisted Suicide
Gorsuch has never directly ruled on abortion rights, but in a 2006 book he argued against the legalization of assisted suicide and euthanasia. Trump promised during the campaign to appoint anti-abortion justices.
As a private lawyer at the law firm Kellogg Huber in Washington, he criticized class-action lawsuits. He argued in a 2005 paper for the conservative Washington Legal Foundation that companies facing meritless securities-fraud lawsuits had been pressured into settlements that benefited investors' lawyers more than their clients.
His best known appeals court cases were religious-rights disputes that ultimately reached the Supreme Court. Gorsuch sided with Hobby Lobby Stores Inc., whose owners objected to providing the birth-control coverage required under Obamacare. He said the fines they faced for noncompliance left them with "a choice between abiding their religion or saving their business."
Later, Gorsuch called for reconsideration of a ruling that required the Little Sisters of the Poor, an order of nuns, to submit a form the religious group said might facilitate contraceptive coverage.
Kennedy Clerk
A former law clerk to Justice Anthony Kennedy, Gorsuch would become the first justice ever to sit alongside his former boss at the Supreme Court. Kennedy, now the court's swing vote, shared Gorsuch with retired Justice Byron White during the 1993-94 term. Gorsuch later worked in the Justice Department during the Bush administration.
Gorsuch is a fourth-generation Coloradan who earned his undergraduate degree at Columbia, his law degree at Harvard and a doctorate in legal philosophy at Oxford. He is the son of the late Anne Gorsuch Burford, who led a controversial effort to roll back the Environmental Protection Agency's anti-pollution efforts as its administrator under President Ronald Reagan. Gorsuch and his wife, Louise, have two daughters.
Gorsuch is an Episcopalian; five of the current justices are Catholics and three are Jewish.
Though a confident writer, Gorsuch is less prone to inflammatory statements than Pryor, whose name Trump invoked on the campaign trail as a possible nominee. Gorsuch's relative caution will leave Democrats with less ammunition as they consider how strongly to oppose the nomination.
A study led by Mercer University law professor Jeremy Kidd concluded that Gorsuch is the second-most similar to Scalia of the 21 prospective justices on the lists Trump released during the campaign.
Individual Freedom
Those similarities include a wariness toward criminal statutes that are so broadly worded they don't provide notice of what type of conduct might invite prosecution.
"What happens to individual freedom and equality when the criminal law comes to cover so many facets of daily life that prosecutors can almost choose their targets with impunity?" Gorsuch said in a 2013 speech to the Federalist Society.
Democrats are still smarting from Senate Republicans' refusal to consider Obama's nomination of Garland in March 2016 to fill the Scalia seat. That nomination would have given the court a majority of Democratic appointees for the first time since 1969. Democratic Senator Jeff Merkley of Oregon called it a "stolen seat" and was among several Senate Democrats saying they'll oppose Gorsuch's confirmation.
The nomination could be one of several for Trump. Three other justices -- Kennedy, Ruth Bader Ginsburg and Stephen Breyer -- are at least 78.
Before it's here, it's on the Bloomberg Terminal.
LEARN MORE