Trump's 'Great Again' Golf Course on Hook for Member Fees
By
Judge finds golf course breached contract by refusing refunds

Trump told members to get lost if they didn't like new rules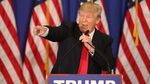 President Donald Trump's son declared the family had "made great again" a Florida golf course it took over in 2012. It wasn't quite up to par for some members, though, and on Wednesday they got their membership deposits back.
U.S. District Judge Kenneth A. Marra found the Trump National Golf Club in Jupiter breached the former members' contract by denying them access and failing to refund their deposits within 30 days. The members who sued paid a total of $4.85 million in deposits, which the judge ordered returned, and $925,010 in interest.

Trump, who has bragged about his success in courts in posts on Twitter, is still embroiled in lawsuits that predate his election victory in November. Since becoming president he's become the target of additional cases over his executive orders on immigration and sanctuary cities.
The former members of the Trump National Golf Club Jupiter sued to get their money back after Trump changed the membership rules following his 2012 acquisition of the money-losing venture from Ritz-Carlton Hotel Co.
"It's great to win the case," said Norman Hirsch, one of the former members. "I was pretty confident that we would as long as the court was unbiased. I was assured that the judge would be, as long as he wasn't scared he'd be attacked," in the way Trump had challenged a San Diego judge in a lawsuit over his failed real estate seminars.
This is who sued Donald Trump before he became President
The Trump Organization's chief legal officer, Alan Garten, said the company intends to appeal.
"We respectfully disagree with the judge's decision," Garten said.
Trump had touted his court victories in a June 2 post on Twitter, writing: "Wow. USA Today did todays cover story on my record in lawsuits. Verdict: 450 wins, 38 losses. Isn't that what you want from your president?"
The golf club members were on a list of people who had asked to resign from the club. They were to get their deposits back once new members joined. Under the Ritz-Carlton rules, they could continue to use the club until they received their refunds. They paid $35,000 to $210,000 in deposits. Trump barred them from the facilities and told them if they didn't like the new rules to get lost.
In a letter, Trump told them if they chose to remain on the resignation list: "You're out."
Judge's Finding


Marra said Trump's club breached a contract to provide "persons lawful permission to use and access the club." Without a right to access, "no membership would exist" and an "essential purpose of the membership contract would be nullified," the judge said.
Trump and his son Eric initially argued that they hadn't changed the membership rules and that they didn't bar the former members from the club's facilities, but Eric Trump admitted during the August trial in West Palm Beach that he was wrong and that some members had been banned. 
He also said the Trumps spruced up the club and "made it great again."
When Trump bought the club 16 miles (26 kilometers) north of West Palm Beach, he agreed to assume the liability of about $41 million in member deposits that were refundable. The club features a 7,531-yard Jack Nicklaus-designed golf course, as well as a spa, tennis courts, a fitness center and restaurants.
Seth Lehrman, attorney for the plaintiffs, said he was happy with the ruling. 
"We obtained full relief and full justice," he said.
The case is Hirsch v. Jupiter Golf Club LLC, 13-cv-80456, U.S. District Court, Southern District of Florida (West Palm Beach).
— With assistance by Patricia Hurtado, and Chris Dolmetsch
Before it's here, it's on the Bloomberg Terminal.
LEARN MORE