Iran Confirms Missile Launch Called 'Unacceptable' by U.S. Ambassador Haley
By and
American ambassador to UN says her country won't 'stand by'

Launch tests Trump administration policy on Islamic Republic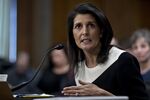 Iran confirmed for the first time that it recently carried out a missile test and told other nations not to meddle in its defense affairs, hours after the U.S. called the launch unacceptable and vowed to act.
Defense Minister Hossein Dehghan on Wednesday said the test was part of Iran's ongoing defense program, according to Tasnim news agency. "We have no other aim but to defend our interests and in this path we will neither seek permission nor allow anyone to interfere."
The launch, in just the second week of Donald Trump's presidency, is the first test of the new U.S. administration's policy on the Islamic Republic. A United Nations resolution that endorses world powers' 2015 nuclear deal with Iran calls on it not to undertake any activity related to ballistic missiles capable of delivering nuclear weapons, including launches using such ballistic technology. Iran has maintained it does not have a nuclear weapons program.
After an emergency meeting of the Security Council on Tuesday that the U.S. called to discuss the missile issue, U.S. Ambassador to the UN Nikki Haley said Iran's launch was "absolutely unacceptable." The U.S. is "not going to stand by, you will see us call them out as we said we would and we will act accordingly," she said, without elaborating.
The language of the UN Resolution 2231 is non-binding, and with no internationally agreed definition of nuclear-capable missiles there is "almost no chance" that the U.S. could get the Security Council to punish Iran for its missile tests, said Ali Vaez, senior Iran analyst at International Crisis Group.
Any unilateral U.S. sanctions over the missile test would be counterproductive, Vaez added. "It is unlikely to dissuade Iran from pursuing what it deems as a sovereign right and legitimate form of defense, while it undermines the nuclear deal that has significantly diminished the threat Iranian missiles pose," he said.
Campaign Pledge
The U.S. said Iran launched a missile capable of carrying a 500-kilogram (1,100 pound) payload with a 300-kilometer range (186 miles) on Sunday. Foreign Minister Javad Zarif said on Tuesday that his country's missiles are not designed to carry nuclear warheads and are solely meant for self-defense.
During his election campaign, Trump vowed to scrap or renegotiate the nuclear pact, which lifted international sanctions on Iran in return for curbs and safeguards on its nuclear program. While he hasn't repeated those pledges since taking office, Trump included Iran in an order barring citizens of seven Muslim-majority nations from entering the U.S. He has also held a lengthy discussion with King Salman of Saudi Arabia, Iran's chief rival in the Middle East, which according to the White House included how to tackle Tehran's "destabilizing regional activities."
Iranian President Hassan Rouhani took a swipe at Trump's immigration ban on Wednesday, calling it the dangerous comportment of a political rookie.
"From those who just joined the political arena not much more can be expected," Rouhani was quoted as saying by the Mehr news agency. "Until they and those who surround them can understand such things, much time will pass and a lot of damage will be inflicted on their people and other peoples in the world."
Israeli Prime Minister Benjamin Netanyahu, a staunch opponent of the deal, said on Monday he aims to propose renewed sanctions on Iran when he meets with Trump at the White House this month.
Before it's here, it's on the Bloomberg Terminal.
LEARN MORE