Gorsuch Pick Spurs Liberals' Campaign for Democrats to Block
By
Outside groups weigh in as Trump's choice meets with senators

Battle could come over moderates, Democrats from Trump states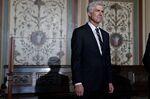 Liberal interest groups have already made up their minds on President Donald Trump's first Supreme Court nominee, firing up an ambitious campaign to pressure Senate Democrats to block the confirmation of Neil Gorsuch.
These efforts could put some Democrats in a particularly tough spot as they try to navigate the treacherous path ahead -- caught between an energized base geared up to battle Trump across the board and the political peril of denying a new president a high-court nominee with such a strong resume.
More than 200 groups, including People for the American Way and the Leadership Conference on Civil and Human Rights, are planning press conferences and other events across the U.S. They'll have a particular focus on many of the states Trump won last year that will have Democratic senators on the ballot in 2018, including Wisconsin, Ohio, Montana and Florida.
"We'll make sure the narrative makes clear he is out of the mainstream, is extreme and in many ways is to the right of Scalia," said Marge Baker, executive vice president of People for the American Way.
In the Senate, a cluster of progressive Democrats already have announced their opposition to Gorsuch, including Elizabeth Warren of Massachusetts, Jeff Merkley of Oregon and Sherrod Brown of Ohio. Moderates in both parties will be important targets, said Scott Simpson, a media and campaigns director for the Leadership Conference, which is helping coordinate the work of many of the groups.
Senate Outlook for Supreme Court Pick Neil Gorsuch: BGOV OnPoint
Democrats will be hard-pressed to stop the nomination given the 52-48 advantage Republicans hold in the Senate. Under current rules Democrats need only 41 votes to filibuster the nomination and block a vote, but Republicans could eliminate the filibuster for Supreme Court appointments with a simple majority vote.
As Gorsuch began individual meetings with senators on Capitol Hill Wednesday, Trump weighed in, urging Senate Majority Leader Mitch McConnell to "go nuclear" and change the rules if needed.
"I would say, if you can, Mitch, go nuclear," Trump said at the White House Wednesday. "Because that would be an absolute shame if a man of this quality was caught up in the web. So I would say, it's up to Mitch, but I would say go for it."
On the Senate floor, McConnell didn't pick up on the threat, instead highlighting the accomplishments of a jurist who was confirmed unanimously to the 10th Circuit Court of Appeals in 2006. McConnell said it was clear even before Gorsuch was nominated that some Democrats would make this a tough confirmation, and called on lawmakers to line up behind the 49-year-old judge.
'Pro-Business' Tilt
Senate Minority Leader Chuck Schumer responded that it's already clear some Democrats want to require 60 votes to advance the nomination, which he said is "essential" to ensure that Gorsuch must gain bipartisan support. The confirmation has high stakes given the court's "pro-business" tilt under Chief Justice John Roberts, Schumer said.
The Democratic leader said Trump's early actions -- including a ban on travel from seven Muslim-dominated nations -- show he doesn't respect "the rule of law."
"There is a special burden on this nominee to be an independent jurist," Schumer said.
Many Democrats say they need time to decide where they stand on the nominee and how hard they will fight.
Senator Chris Coons of Delaware, a Democratic member of the Judiciary Committee, said he must decide whether Gorsuch is "an activist judge who is bent on reversing long-settled law." He said it's clear the judge has strong credentials and is viewed positively by former colleagues, based on media reports.
'Fair in His Jurisprudence'
"I think we should let Judge Gorsuch have his hearing before the Judiciary Committee first" before deciding whether he should be allowed to get a simple-majority Senate vote, Coons said.
While Senate Judiciary Chairman Charles Grassley met with Gorsuch and praised him as being "fair in his jurisprudence," the confirmation process comes with added baggage.
There is lingering bitterness among many Democrats over the 11-month Republican blockade last year of Merrick Garland, former President Barack Obama's pick to fill the vacancy caused by Justice Antonin Scalia's death in February 2016. Merkley said yesterday he will pull out all the stops to block Gorsuch because he's not Garland, "voting no on whatever occasion."
The top Democrat on the Judiciary panel, Dianne Feinstein of California, said Tuesday that Republicans' passive resistance to Garland was "a big deal," and said that she will wait to decide how to proceed.
Democratic Filibuster
Outside groups say they want Democrats to use the filibuster if needed to keep Gorsuch off the court. If confirmed, Gorsuch would in all likelihood largely track Scalia's voting pattern. He would become the youngest justice since 43-year-old Clarence Thomas joined the court in 1991.
"We believe every senator should use every tool that is available to them under Senate rules," said Dan Goldberg, legal director for the Alliance for Justice.
Human Rights Campaign, a gay-rights group with 2 million members, plans to reach out to Democratic senators who seem open to supporting Gorsuch, including Joe Manchin of West Virginia. Those senators will be pressured with office visits, phone calls, e-mails and protests at their in-state offices, said David Stacy, HRC's government affairs director.
The group also will focus on 15 Republicans, many from Democratic or swing states, Stacy said. They include Susan Collins of Maine, Dean Heller of Nevada, Pat Toomey of Pennsylvania, and Cory Gardner of Colorado. Arizona Republican Senators John McCain and Jeff Flake also are among the targets.
Battle 'Can Be Won'
"We do think this is a battle that can be won or we wouldn't be fighting it so hard," Stacy said.
Baker, of People for the American Way, said her group and others took part in a conference call Tuesday to begin planning press events across the nation. She said they'll focus not only on Democrats, but also Republicans who might agree that Gorsuch's rise to the high court risks civil liberties.
"We want to make sure their constituents voice their opinions on this," said Simpson of the Leadership Conference. "That's vitally important. The right is going to be playing hardball."