Biden Endorses Perez in Race to Lead Democratic Party
THE ASSOCIATED PRESS (LISA LERER)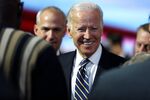 Washington (AP) -- Former Vice President Joe Biden is backing Tom Perez to head the Democratic National Committee, calling the former Obama administration labor secretary the "best bet to help bring the party back."
Biden's endorsement — a sign of Perez's strong support among former Obama administration officials — drew a sharp response from Vermont Sen. Bernie Sanders, escalating the relatively sleepy party chairman battle into a fight between the liberal wing that supported Sanders' insurgent primary bid and backers of Hillary Clinton.
"The question is simple: Do we stay with a failed status-quo approach or do we go forward with a fundamental restructuring of the Democratic Party?" said Sanders, who's backing Keith Ellison, a Minnesota congressman. "I say we go forward and create a grassroots party which speaks for working people."
Biden's support, his first political act since leaving office, is the highest-profile endorsement in the crowded — and still fluid — race to lead the Democratic Party, which has rekindled party divisions exposed in last year's presidential primary campaign.
While former President Barack Obama has praised his former labor secretary as "tireless, wicked smart," he's so far withheld a formal endorsement.
Biden cast Perez, a Dominican-American civil rights lawyer who grew up in the Rust Belt, as a tireless champion of working Americans, immigrants and the disabled.
"He knows how to explain why our party's core beliefs matter to the immigrant family in Arizona and the coal miner in West Virginia. That matters," Biden said in a statement. "I've watched him work. I think I know his heart. That's why I endorse him as the next chairman of the DNC."
Perez, who was quietly urged by the White House to jump into the race, faces his stiffest competition from Ellison.
Democratic strategists with knowledge of the chairman selection process say Perez has as much as a 66-member lead among the 447 members of the party who will vote on the next chairman at the party convention in late February. In total, 304 members have indicated who they're backing.
The strategists spoke on condition of anonymity to discuss the vote counting.
Perez aides say he's raised more than $825,000 for his campaign, with 73 percent of the donors contributing $200 or less.
Ellison attributed the support to Biden's sense of loyalty to Perez, who spent much of the past eight years working in the Obama administration.
"At the end of the day, I think we can all agree that the DNC chair must be the choice of the rank-and-file Democratic Party members across the nation," he said in a statement.
His aides disputes Perez's lead in the race and claim a hefty advantage, though they would not share their internal count. Ellison staffers say he's raised nearly $1 million for his campaign, with 98 percent of donors contributing $200 or less.
Along with Perez and Ellison, South Bend, Indiana, Mayor Pete Buttigieg, South Carolina Democratic Chairman Jaime Harrison, New Hampshire Democratic Chairman Raymond Buckley, Democratic strategist Jehmu Greene and the executive director of the Idaho Democratic Party, Sally Boynton Brown, are in the race.
While the contests mostly focus on the political logistics of rebuilding the struggling party, the candidates are also working to appeal to a party base furious with President Donald Trump's early actions and demanding nothing short of complete resistance from their leaders.
"Even though Donald Trump is trying to administer body blows to Lady Liberty, the American people are speaking up loudly and clearly in places all over the country," Perez said in an interview earlier this week. "We can't normalize falsehoods."
Ellison, who held a news conference with the leaders of the American Civil Liberties Union and Gold Star father Khizr Khan on Wednesday, said Trump's early actions have made it impossible for Democrats to approach the new administration with anything but a wall of opposition.
"We're well past the question of should we just automatically oppose Trump. It's based on a factual predicate and record," Ellison said. "Democrats are being told by the people of this country to stand up and fight on their behalf."
Before it's here, it's on the Bloomberg Terminal.
LEARN MORE