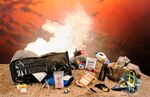 Since 1947, the Bulletin of the Atomic Scientists has kept the Doomsday Clock to track how close mankind is to destroying itself. Assessing nuclear arsenals and other risks, it calculates the number of "minutes to midnight," with midnight being End Times. On Jan. 26 the Bulletin moved the clock 30 seconds forward, to two and a half minutes from the apocalypse—the closest we've been since 1953, shortly after the U.S. tested its first hydrogen bomb. (Yes, President Trump's "intemperate statements" factored into the thinking.)
Nobody likes to contemplate catastrophes, nuclear or not, which is why we're woefully unready for them. A 2016 survey by the National Center for Disaster Preparedness at Columbia University found that only one-third of American households have an adequate plan for an emergency. What does being ready mean? First, talk with your family about who will meet the kids at school and who'll go to the nursing home to get Grandma. Another key step is to pack what experts call a "bug-out bag" with emergency essentials; you can even throw a bug-out-bag party to get ideas—(cough) condoms (cough)—from friends and neighbors, says Cham Dallas, director of the Institute for Disaster Management at the University of Georgia's College of Public Health. The relief alone is worth the hassle, says Michael Coston, a former EMT who blogs about outbreaks and readiness. "You don't lie awake worrying about it anymore," he says.
Home Away From Home Away From Home
Big cities are big targets. The best place to be if society goes south is a couple of steps removed—in a town on the edge of a small city. "My camo buddies, they think they're going to do something by simply gearing up," Dallas says. "Unless you connect with a group, you're not going to protect yourself, and you won't help anybody else either." Here are some spots where you might want to look for, uh, a "summer home."
Chicago → Madison, Wis. → Sun Prairie, Wis.
Houston → Corpus Christi → Kingsville
Los Angeles → Bakersfield → Wasco
New York → Albany → Saratoga Springs
San Francisco → Sacramento → Galt
You Can Take It With You—Well, Some of It
Leaving home is a last resort. "If the house is on fire, if the creek is rising, if the neighborhood has devolved into chaos or anarchy—these are reasons to leave," Coston says. Pack enough to get by for 72 hours but not so much that your bag is impossible to carry. Items our experts say are worth considering:
Bag

Patagonia Black Hole 32-liter backpack
$149; patagonia.com
It will hold everything on this list, and it's water-resistant.
Water

LifeStraw Go with 2-stage filtration
$45; lifestraw.eartheasy.com
Water is heavy. A portable filter isn't. In a pinch, "if the water is a little questionable," Dallas says, "you drop drops of bleach in there. It doesn't taste good, but it doesn't hurt you." He keeps a few ounces in a travel shampoo bottle.
LED flashlights

Fenix E12 LED flashlight
$26.95; fenix-store.com



Stanley HL2PKS 5-LED alkaline headlamp
$16; amazon.com
LED bulbs have a longer battery life than traditional ones. Pack a couple of flashlights, plus extra batteries. Or try a headlamp to keep your hands free.
Food

UST emergency food ration bars
$7.99 for four; ustbrands.com
Each UST block breaks into six 400-calorie bars and has a five-year shelf life. They taste like a dry apple cinnamon scone—but it's $8 for something you don't have to think about again until 2022. Nonperishable and nourishing are the main requirements, but it shouldn't be all hardtack. Pack some things you'll want to eat, such as fancy beef jerky or tea.

Brooklyn biltong
$34.99 for 16 oz.; brooklynbiltong.com
Guayaki yerba mate
$6.95 for 25 bags; guayaki.com


Hand-crank radio

Midland ER210 emergency compact crank radio
$49.99; midlandusa.com
Important if landline phones, cell networks, and TV are inaccessible. This one has a flashlight and a port for charging mobile phones—hey, we can hope.
Whistle


UST JetScream floating whistle
$6.99; ustbrands.com
You'll need this to signal for help if you're trapped or threatened. Get one without a "pea" (that floating ball), so the whistle doesn't jam.
Map and compass

Trails illustrated map
$11.95; rei.com

CountyComm compass
$12.50; countycomm.com
Keep a laminated map of the region and a compass—you may not be able to rely on GPS to get around.
Multitool


Leatherman Wave
$90.85; leatherman.com
Make sure it has a can opener. This one does, along with 16 other tools, including two knives and a saw.
Distractions

Uno
$5.99; target.com
If your kids are big enough to walk, get them their own bags. "It makes them feel like they're part of the plan," Coston says. "You can put in games or books and a little flashlight for each of them." Fact: Uno is the undisputed king of card games.
Clothes and shoes

Wave men's water shoes
From $15; amazon.com
Keep a weather-appropriate outfit stashed and change it seasonally. Don't forget a spare pair of lightweight sneakers—or, in warmer weather, quick-drying aqua shoes.
Blanket

Grabber space all-weather blanket
$14.99; amazon.com
Cheap, compact Mylar blankets do a good job of holding in heat. This one has a second fiber layer to help it keep its shape.
First-aid kit

CountyComm Grab & Go first-aid kit
$9.50; countycomm.com


Ever Ready Israeli compression bandage
$8.54; amazon.com
CountyComm's kit covers the basics. Dallas likes the bandages because they stop bleeding effectively and "squeeze down real easy." Bring extras: "Nobody around you is going to be prepared," he says. "You need to be the hero of your block."
Medication
Keep at least a seven-day supply and up-to-date copies of prescriptions. If you wear glasses, pack an extra pair.
Cash
Up to $1,000 (in small bills) is good if you can spare it, but more isn't necessarily better. "All you're going to be is a resource for somebody to take it away from you," Dallas says.
Photocopies
Include contact information for doctors, insurers, and close friends and family—as well as IDs, credit cards, bank account information, and other hard-to-replace documents. Paper is good; so is putting this information on a flash drive.
Before it's here, it's on the Bloomberg Terminal.
LEARN MORE