UPS Tumbles as Doubts Multiply Over Package Shift to E-Commerce
By
Less-profitable home deliveries surge as online retail expands

Courier's 2017 earnings forecast falls short of expectations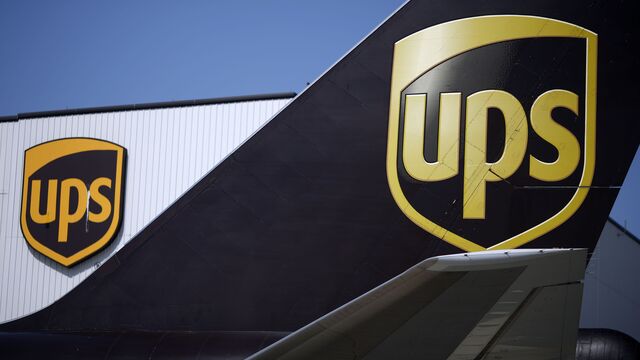 United Parcel Service Inc. plunged the most in two years as a rapid shift toward home deliveries exposed how much further the courier has to go to keep up with the shift to e-commerce.
The world's largest package-delivery company committed to spending an extra $1 billion to automate warehouses and pay for other efforts to cope with increasing demand from internet shoppers. Stepped-up investment plans, along with expectations for a strong dollar, weighed on a 2017 profit forecast that fell short of analysts' estimates.
Online retailing is making UPS busier than ever but the challenge lies in earning more from record shipments to homes, which are less profitable than commercial deliveries. Since 2007, adjusted operating profit at the company's large U.S. package division has slipped to less than 13 percent of sales from more than 15 percent, according to data compiled by Bloomberg.
"Thus far, it seems like e-commerce has generated problems equal to benefits," Logan Purk, an analyst at Edward Jones, said. "This has been a ghost that has been haunting UPS for a few years, and that's how to move all this volume profitably."
The shares fell 6.7 percent to $109.15 at 2:06 p.m. after dropping as much as 7.1 percent, the biggest intraday decline since January 2015.
Online Growth
UPS underestimated the pace of e-commerce growth in the fourth quarter and by December, residential deliveries hit a record 63 percent of total package volume, Chief Executive Officer David Abney said in an interview. The unexpected surge in less profitable shipments, particularly during the holiday-shopping season, dragged fourth-quarter earnings to a lower level than analysts had expected.
"The pace came in greater than we thought, and it challenged us," Abney said. "Cyber week has become a huge increase from one week to the next, and so that drives your costs up."
One indicator of online transactions jumped 13 percent in November and December, far outpacing the 4 percent gain in total spending, the National Retail Federation said this month. A separate report from payment-technology company First Data found that such sales accounted for 20 percent of all holiday spending, up from 15 percent the prior year. The shift has taken its toll on traditional retailers such as Macy's Inc., which has announced plans to cut 6,200 jobs and shutter 100 stores.
At UPS, fourth-quarter profit excluding some items was $1.63, while analysts predicted $1.69. Based on generally accepted accepted accounting principles, UPS reported a net loss of $239 million, or 27 cents a share. Sales climbed 5.5 percent to $16.9 billion, in line with analysts' projection of $17 billion.
Dollar Strength
The company predicted adjusted earnings of $5.80 to $6.10 a share for this year. That trailed the $6.17 that was the average of analyst estimates compiled by Bloomberg.
UPS said it made a conservative forecast because of the strong dollar. Certain foreign-exchange bets known as hedges wear off this year, giving the company more exposure to weaker currencies. That caused a drag of 30 cents a share on the company's earnings forecast.
The hedging program is being replaced just as the dollar's two-and-a-half year surge shoes signs of fading. The currency has tumbled almost 4 percent since climbing to a 14-year high in December.
Rising Investment
UPS is boosting capital expenses to $4 billion in 2017 from $3 billion or less in previous years. The company must "double down" on its efforts to boost efficiency to cope with surging e-commerce, Abney said.
Drivers typically drop off 1.1 packages at residences, while commercial stops often come with multiple packages. That raises the cost of home deliveries and makes them less profitable for UPS. The company has several initiatives to try to lower those costs, including automating warehouses and dropping off certain packages at drugstores and convenience stores near people's houses, rather than on their doorsteps.
Investors are concerned that UPS is in a "constant investment cycle" in which it tries to keep up with the growth of online retailing and to make it profitable, Stephens Inc. analyst Jack Atkins said in an interview. At the same time, Amazon.com Inc. has been expanding its own delivery capabilities in recent years, increasing competition for UPS and rival FedEx Corp. as the couriers try to make more money off the shift to home deliveries.
"This weakness in the segment will likely lead to continued questions about growth of Amazon's delivery network and how UPS will continue to drive growth in a weak industrial environment," Cowen & Co. analyst Helane Becker said in a note to clients.