Under Armour Sinks After Dismal Forecast Rattles Investors
by
Revenue last quarter increased at slowest pace since 2009

Sports-apparel maker is facing raft of new competition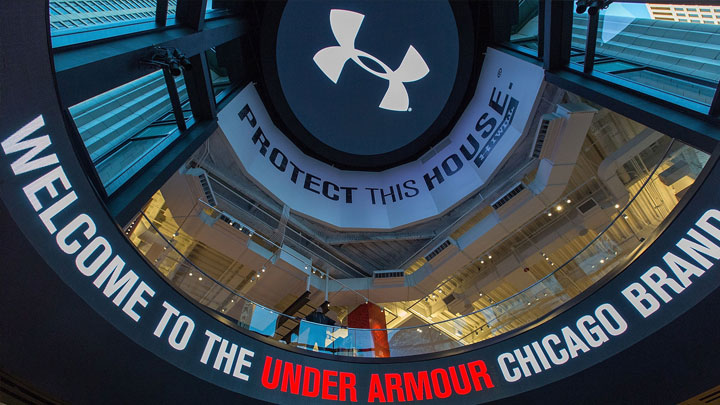 Under Armour Inc. tumbled the most in nine years after its sales forecast missed analysts' estimates by a wide margin, signaling that the sports-apparel maker's days of rapid growth may be drawing to a close.
Sales this year will increase as much as 12 percent to nearly $5.4 billion, the Baltimore-based company said in a statement Tuesday. That trailed analysts' $6.05 billion average estimate and would be Under Armour's smallest annual gain since it went public in 2005.
Under Amour -- which has doubled its sales about every three years -- is now having a hard time maintaining that rapid growth. While the company helped make moisture-wicking clothing a staple of gym-goers' wardrobes, the increased popularity of athletic wear as everyday apparel has brought a raft of new competitors. The growth concerns caused Under Armour's shares to slip 30 percent last year, and the stock is the most shorted in the Standard & Poor's 500 Index, according to data compiled by Bloomberg.
"This leaves very little optimism for 2017," said Chen Grazutis, an analyst at Bloomberg Intelligence. Increased competition is "going to continue to weigh on the company."
The company's class A shares plunged as much as 28 percent to $20.80 in in New York, the biggest drop since January 2008. Under Armour's woes dragged down competitors as well, with Nike Inc. declining 2.7 percent.
CFO Departs
Investors may also have been rattled after Under Armour said Chief Financial Officer Chip Molloy was leaving for personal reasons. Molloy joined the company only a year ago.
Under Armour's revenue rose just 12 percent to $1.31 billion last quarter. That marked the smallest year-over-year gain since 2009 and trailed analysts' $1.41 billion average estimate. Earnings were 23 cents a share, missing analysts' 25-cent average estimate.
Under Armour cited multiple reasons for its weaker growth and said the trends will continue into this quarter, with sales expected to gain at a mid-single-digit percentage. The company said a decline in people shopping across the retail industry caused an increase in discounting that hurt profitability. Chief Executive Officer Kevin Plank also said that the bankruptcies of several large customers, including Sports Authority Inc., disrupted the North American market.
But Plank, who is also the founder, said Under Armour is misfiring on its products and that it's too focused on workout gear while the so-called athleisure trend has people wearing athletic apparel in everyday life.
Company's DNA
"The DNA of Under Armour is that it's a performance-based brand, and when the market shifts away from performance to that fashion silhouette, that's not its strength," Grazutis said.
Still, Under Armour had been able to maintain growth rates above 20 percent a year by moving into Europe and Asia while also entering new categories, like athletic shoes. The company, which generates less than 20 percent of its revenue outside North America, still has room to expand internationally. However, diversifying out of the highly competitive U.S. requires significant investments. Last quarter, sales of footwear rose 36 percent while international revenue surged 55 percent.
"They might see better growth in the future after this near-term pain," Grazutis said. "This is not the end of the brand. It's more of a transition."
Before it's here, it's on the Bloomberg Terminal.
LEARN MORE