Battle Rages Amid East Ukraine's Bloodiest Fighting in Weeks
By
Seven soldiers have been killed since latest violence began

EU says shelling is a 'blatant' cease-fire violation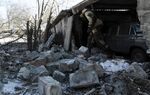 The deadliest flare-up in fighting in eastern Ukraine in 1 1/2 months stretched into a third day as the European Union labeled the violence a "blatant" breach of the stalled 2015 peace accord aimed at resolving the almost three-year-old conflict.
The military said Tuesday that Russian-backed insurgents pounded the town of Avdiivka, 20 kilometers (13 miles) from the conflict zone's biggest city, separatist-held Donetsk, using rockets and artillery. Rebels blamed the shelling on the army. President Petro Poroshenko broke off a visit Monday to Germany, where Chancellor Angela Merkel voiced concern at the security situation.
There's no end in sight for the conflict in Ukraine's easternmost regions, which has killed almost 10,000 people and poisoned ties between Russia and the West. The peace plan -- brokered by Germany, Russia and France -- hasn't been implemented. Despite the lack of progress, President Donald Trump has said he may consider relaxing U.S. sanctions against Russia over the conflict.
"The intense fighting around Avdiivka in the last few days, involving heavy shelling with proscribed weapons and leading to a considerable number of casualties, is a blatant violation of the cease-fire," according to a statement from the EU, whose own sanctions have been extended until at least mid-2017.
Joint 'Assault'
The U.S. backed Ukraine's stance on the renewed violence, attributing it to "a combined Russian-separatist assault." Kremlin spokesman Dmitry Peskov said Ukraine's military was engaged in "aggressive actions" after trying to retake territory in the Donetsk region.
The fighting comes days after Trump spoke by phone with President Vladimir Putin in a bid to improve relations. Alexei Pushkov, a member of Russia's upper house of parliament, said Ukraine needs to raise tensions "at all costs" as speculation over the fate of the U.S. sanctions persists. Analysts in Kiev said the battle in Avdiivka could equally be a way of Putin asserting his strength at the start of Trump's presidency or of spoiling Poroshenko's talks with Merkel.
Fighting continues in Avdiivka, where at least seven soldiers have been killed since Sunday. Four separatists and three civilians died and eight others were wounded in the past two days, rebel spokesman Eduard Basurin said Tuesday by phone.
For an explainer on the conflict in Ukraine, click here
There could be "dire humanitarian consequences" for the town, according to the Organization for Security and Cooperation in Europe. Temperatures there are currently about -18 Celsius (-0.4 Fahrenheit).
"The impact of the fighting on the civilian population has been severe," the OSCE said in a statement. "There's little or no access to water, heating or power for many thousands of people on both sides of the contact line."
Metinvest's Avdiivka Coke Plant said Monday that it had been forced to revert to emergency power. The government may evacuate 8,000 people from the area if the situation doesn't improve.