business
U.S. College Endowments Lose 1.9% in Worst Showing Since 2009
By
Hedge funds, natural resources hurt performance, survey says

Schools raised spending to fund student aid, research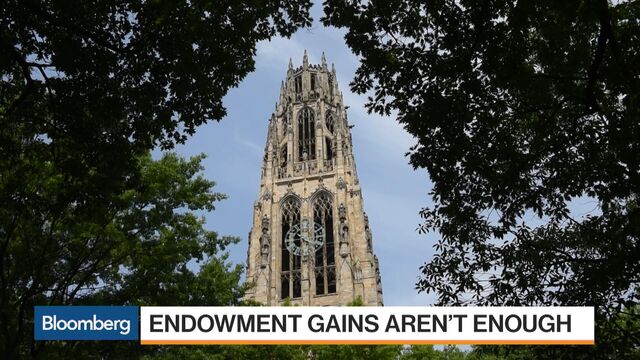 U.S. college endowments suffered their biggest loss since the financial crisis, dragged down by global stocks, hedge funds and natural resources, according to an industry survey released Tuesday.
The 1.9 percent average loss reported by the National Association of College and University Business Officers and money manager Commonfund in Wilton, Connecticut, for the year ended June 30, compared with a nearly 4 percent gain, with dividends, in the S&P 500 Index. In the prior 12-month period, schools saw a 2.4 percent return on average.
The 10-year average return fell to 5 percent as a result of the tepid performance, well below the median 7.4 percent most say they expect to earn over time, according to the report. Yet 74 percent of respondents increased the amount spent from their endowments to support their institution. The average spending rate was 4.3 percent, up slightly from 4.2 percent a year earlier.

"These below market long-term returns may make it even harder for institutions to maintain spending rates," John D. Walda, Nacubo's president, said on a conference call.

Risky Alternatives
Endowments were hampered by investments in non-U.S. equities, which declined 7.8 percent, energy and natural resources, which lost 7.5 percent, and commodities and managed futures, which were down 7.7 percent.
Wealthier schools' performance was dragged down by their larger allocations to riskier alternatives such as hedge funds. Hedge funds were among the worst performers for endowments of all sizes, with a 4.0 percent loss.
Endowments with more than $1 billion declined 1.9 percent, the same as the average. These schools had 58 percent of their portfolios in alternative strategies, unlike schools under $25 million, which had 10 percent.
Among alternative strategies, private equity outperformed at 4.5 percent as did private equity real estate surged 7.1 percent. Fixed income gained 3.6 percent while short-term securities and cash were up 0.2 percent.
For fiscal 2017, U.S. stocks will be "the best house in an improving neighborhood" that includes international equities, Mark Anson, chief investment officer at Commonfund, said on the call.
Read More: U.S. Colleges Amass Riches as Students Sink in Debt: QuickTake
Endowments of all sizes suffered losses in fiscal 2016, with those under $25 million posting the smallest average decline at 1 percent, according to the survey of 805 institutions with combined assets of $515.1 billion. The performance was the first loss since a 0.3 percent decline in fiscal 2012, and the worst since the 2008-2009 financial crisis.
As schools grapple with lower returns, U.S. lawmakers may require the wealthiest endowments to spend more to offset the cost of attendance for middle-income students. Such pressure may hamper the ability of tax-exempt endowments to spend "in a prudent way," Walda said.
Before it's here, it's on the Bloomberg Terminal.
LEARN MORE