U.K. Parliament to Debate Petition Seeking to Ban Trump Visit
By
Lawmakers discussion scheduled for Feb. 20 in Westminster Hall

Prime Minister Theresa May says official invitation stands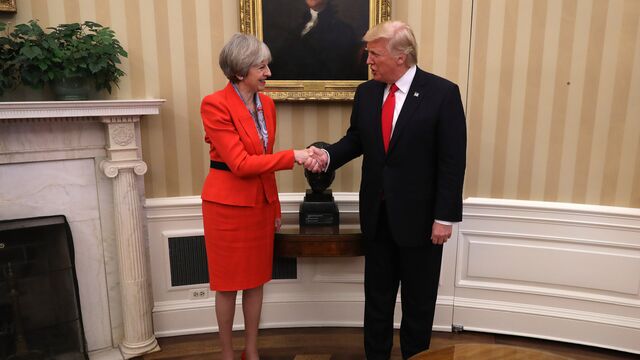 Should Donald Trump be received by the Queen? Prime Minister Theresa May says the invitation stands. But with more than 1.6 million Britons disagreeing with her, the issue will now be debated in Parliament next month.
An online petition calling for Trump's state visit to the U.K. be canceled went viral following the president's immigration ban targeting Muslim-majority countries. While lawmakers don't have the power to rescind the invitation, the Feb. 20 debate puts May in an awkward position and shows what an antagonizing figure Trump has become, even outside the U.S.
State visits traditionally include a horse-drawn procession, a state banquet and a stay with the royal family at either Buckingham Palace or Windsor Castle. Trump has said his mother, who born in Scotland, was an ardent supporter of the monarch. During her reign, Queen Elizabeth II has had contact with Syria's Bashar al-Assad and Zimbabwe's Robert Mugabe.
"Donald Trump should be allowed to enter the U.K. in his capacity as head of the U.S. Government, but he should not be invited to make an official State Visit because it would cause embarrassment to Her Majesty the Queen," the petition says.
The Queen, who has famously never given an interview in her more than six decades as monarch, has steered clear of any political commentary. Prince Charles, her son, tends to speak out on issues he cares about. On Monday, as the controversy over Trump raged on, the heir to the throne said that he fears the lessons of World War II have been forgotten.
Any petition exceeding 100,000 signatures is eligible for discussion. A special Petitions Committee comprised of rank-and-file lawmakers said Tuesday that a debate will be held in Westminster Hall, a chamber in the palace of Westminster used for less formal discussions. 
There will be no vote at the end. Paul Flynn, a lawmaker for the opposition Labour Party will open the debate, as he did last year with another petition seeking to stop Trump from visiting Britain.
— With assistance by Alex Morales
Before it's here, it's on the Bloomberg Terminal.
LEARN MORE