Trump Schools Dollar Bulls With Currencies for 'Dummies' Lesson
By
Market favorite Trump Trade on growth and stimulus backfires

Dollar gauge pares portion of gain registered since election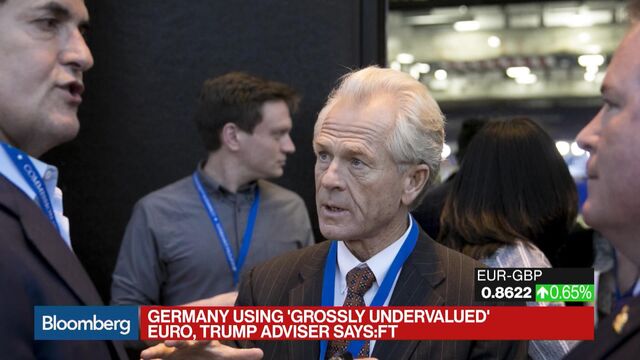 The Trump Trade is backfiring.
Dollar bulls in the $5.1 trillion-a-day currency market are being taught a lesson by Donald Trump and administration officials, who've repeatedly said the greenback is too strong, upending speculation they will focus on pro-growth policies that would boost the currency. On Tuesday, Trump and a key adviser criticized Japan and Germany for having currencies that are too weak, expanding the list of nations that have been accused of having unfair trading advantages over the U.S., including China and Mexico.
"We sit there like a bunch of dummies," while other countries devalue their currencies, Trump said in Washington. His comments come after Peter Navarro, head of Trump's National Trade Council, said the euro is "grossly undervalued" in an interview with the Financial Times.

The administration's focus on trade has muddied the outlook for the dollar, which has fallen for the last five weeks and given back more than half of its gains since Trump's November election victory. Trump's signals that he prefers a weaker dollar contrast with forecasts from some banks including Goldman Sachs Group Inc. and Deutsche Bank AG, who see the greenback surging to parity with the euro this year.
"It's a message for the whole world -- what the U.S. is saying is that these are the new U.S. policies, this is our new approach," said Sireen Harajli, a foreign-exchange strategist at Mizuho Bank Ltd. in New York, in an interview on Bloomberg Television.
Traders have also wavered, with hedge funds and other large speculators cutting net bullish bets on the dollar to the lowest since November, according to the Commodity Futures Trading Commission. Wagers on greenback gains outnumbered bearish positions by 257,728 contracts in the week to Jan. 24 as traders awaited clarity on economic policies.
The Bloomberg Dollar Spot Index, which tracks the U.S. currency against 10 major peers, fell 0.7 percent as of 3:02 p.m. in New York.

"The U.S. administration sees the exchange rate as one of the main anchoring points for the deployment of its trade policies," Vasileios Gkionakis, global head of foreign-exchange strategy at UniCredit SpA, wrote in a note. Tuesday's comments add a "layer of confusion and inconsistency in this twisted web of incoherent policies: a shift towards a 'weak dollar policy' is at odds with the imposition of tariffs, which tend to lead to exchange-rate appreciation."