Romanians Flood Streets as Cabinet Defies Protests Over Pardons
By
Surprise decree quashes corruption probes into officials

Demonstrators flood major cities demanding government resign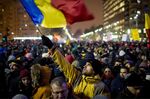 Romania's president urged the government to reverse a surprise decision to quash corruption investigations into officials and annul some other convictions after the measures drew thousands of protesters into the streets of major cities.
About 12,000 people rallied in freezing temperatures late Tuesday in Bucharest, demanding the government step down. At least 8,000 gathered elsewhere in the eastern European nation. The cabinet earlier backed proposals that had sparked the biggest protests since the fall of communism. Some of the changes require parliamentary approval, while others have already been published in the official journal.
"This damages the judiciary and breaches its independence," President Klaus Iohannis said Wednesday, after meeting members of the Superior Council of Magistrates, which monitors the courts and is challenging the government's measures. "The only option I won't accept is doing nothing about it. We must make a stand at an institutional level."
The Social Democratic-led government that took over the European Union and NATO member a month ago is facing unprecedented public opposition to revamping criminal legislation. About 90,000 people demonstrated Sunday in a second weekend of dissent, with at least 50,000 rallying in the capital alone. Protesters back a long-standing anti-graft drive that's ensnared top officials including a former Social Democrat premier.
More than 1,000 demonstrators remained in Bucharest on Wednesday, with further demonstrations planned for the evening. The turmoil sent the leu 1.2 percent weaker, heading to the biggest decline in more than 3 1/2 years and more than erasing its 2017 gain against the euro.
Concerns have arisen in other parts of the region that democracy is under threat. The EU has reprimanded Poland and Hungary for state encroachment on the judiciary and the media. The government in Warsaw backed away from plans to tighten abortion rules after mass protests. European Commission President Jean Claude Juncker criticized Romania's actions on Wednesday.
"The fight against corruption needs to be advanced, not undone," Juncker said in a statement. "We're following the latest developments in Romania with great concern."
Corruption Crackdown
The government says it's trying to relieve overcrowded prisons, where conditions have led to cases being filed with the European Court for Human Rights. "I took into account all the requests of the people and amended the bills," Justice Minister Florin Iordache said Wednesday. He said he stands-by his plan, despite the protests.
If the pardons legislation is approved, prisoners serving sentences shorter than five years -- excluding rapists and multiple offenders -- will be freed, according to Iordache. A separate emergency decree decriminalized abuse of public office for offenses concerning less than 200,000 lei ($48,000) of damages.
Anti-graft prosecutors, who've locked up hundreds of corrupt officials in a four-year clampdown, said Wednesday that they're currently working on more than 2,000 abuse-of-office cases. In the past two years alone, they've sent more than 1,000 people to trial, seeking to recover damages in excess of 1 billion euros ($1.1 billion).
Romania ranks fourth-worst for graft in the EU, according to Berlin-based Transparency International. Social Democratic leader Liviu Dragnea is serving a two-year suspended sentence for electoral fraud and faces another abuse-of-office probe in which he denies wrongdoing.