Polish Institute Brands Dissident Walesa as a Communist-Era Spy
By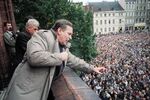 Lech Walesa, the country's most famous politician and freedom fighter, was a paid secret informant of Poland's communist-era secret services, according to a national institute that has been investigating the matter.
The country's former president signed 17 documents that confirm he took money for providing information to communist authorities between January 1971 and June 1974, Andrzej Pozorski, the head of the National Remembrance Institute's investigative division, told a news briefing on Tuesday. Walesa, a Nobel Peace Prize laureate and the icon of the Solidarity movement, rejected the accusations and said the signatures were forgeries by communist officials aimed at discrediting him.
"After experts analyzed 158 documents from the files, we can clearly state that the signatures of Lech Walesa are genuine," Pozorski said.
The ruling Law & Justice Party is battling outcry from opposition forces and has drawn criticism from its allies in the U.S. and the European Union for backsliding on democracy, with measures including overhauling the country's top court and public media. The party's leader, Jaroslaw Kaczynski, fell out with Walesa in 1991 when the former president fired him from the post of chief of staff, sending him into opposition for a decade. The power behind the throne of the Law & Justice-led government, Kaczynski has criticized past administrations' approach to reconciling with the country's communist legacy.
The files, discovered by the institute a year ago during a search of the home of Poland's last communist-era prime minister, Czeslaw Kiszczak, date back to the early 1970s, years before Walesa led the Solidarity trade union and helped broker the first free elections behind the Iron Curtain 28 years ago. Now 73, Walesa rejected the institute's findings.
"Kiszczak couldn't turn me into an agent and couldn't buy me or kill me," he said in a Facebook post on Monday. "You can believe in my version of events or his."
The institute, a body that tracks communist- and Nazi-era crimes, issued an expert opinion on the files, including a "declaration to collaborate" signed by Walesa and receipts of the agent receiving money. The institute compared the signatures with dozens of others Walesa signed from between 1963 and 2016, it said.
Before it's here, it's on the Bloomberg Terminal.
LEARN MORE