Democrats Stall a Sessions Vote After Trump Fires Yates
By , , and
Bitter fight could also sour debate over Supreme Court nominee

Nominations of Mnuchin, Price delayed as Democrats boycott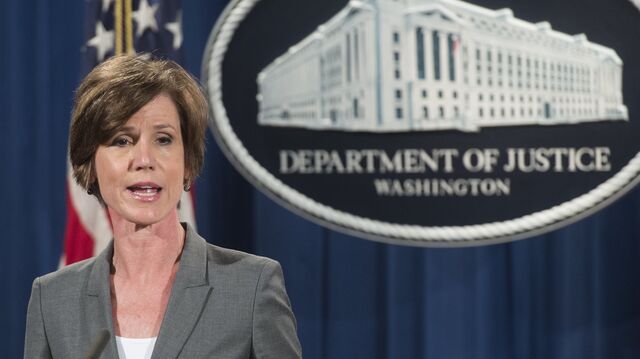 Senate Democrats renewed an assault on Donald Trump's pick for attorney general, Republican Senator Jeff Sessions, questioning his independence after the president fired the acting attorney general for refusing to enforce his executive order on immigration.

Invoking procedural rules, Democrats succeeded in delaying Judiciary Committee action on the Sessions nomination until Wednesday after intense exchanges with Republicans at a hearing Tuesday. His loyalty to Trump was a top target during debate by the panel, which is expected to vote along party lines to recommend confirmation by the full Senate.
"It is very difficult to reconcile, for me, the independence and objectivity necessary to be attorney general with the partisanship" Sessions has represented, Senator Dianne Feinstein, the top Democrat on the Judiciary Committee, said. "Will he support and defend these broad and disruptive executive orders? Will he carry out and enforce the president's actions that may very well violate the Constitution?"
"It's not difficult to assess that he will," Feinstein of California said.
Anger over the executive order emboldened Democrats to rebel on other Trump nominations Tuesday as well. They forced a delay of scheduled committee votes on Steven Mnuchin to run the Treasury and Representative Tom Price to head Health and Human Services by staging a boycott. Democrats also cited the immigration order on the Senate floor in debate over Rex Tillerson's nomination for secretary of state.
Read about Trump's refugee ban and the legal landscape -- QuickTake Q&A
In opening the Judiciary Committee hearing, Republican Chairman Chuck Grassley of Iowa said Sessions, a former federal prosecutor, understands the Justice Department better than any nominee in recent history and that "he'll fulfill the law fully, faithfully and independently," even when he disagrees with it.
The partisan anger -- fueled by Trump's decision to sign the executive order banning entry to the U.S. from seven Muslim-majority countries and then fire acting Attorney General Sally Yates Monday night for denouncing it -- all but guarantees a titanic struggle over an even bigger job, Supreme Court justice, after Trump announces his pick Tuesday evening.

While Republicans who control the Senate can probably guarantee confirmation of their colleague Sessions, Democrats said they wanted more time to question him -- particularly about whether he'd have the independence to stand up to Trump if he disagreed with the president. Democrats say that's what Yates did, and it cost her her job.
"Many people have doubts about whether Jeff Sessions can be that person, and the full Senate and the American people should at the very least know exactly how independent he plans to be before voting on him," the Senate's top Democrat, Chuck Schumer, said in a statement Monday night.
Senate Majority Leader Mitch McConnell told reporters Tuesday that after President Barack Obama's "hyperpoliticized Department of Justice," Americans want "somebody as attorney general who will enforce the law against anyone who breaks the law, and Jeff Sessions will do that."
The anger over Trump's handling of Yates intensified Democratic opposition to other Trump nominees. Only five have been confirmed so far, with more than a dozen nominations still awaiting votes.
Trump's Tweet
Trump took to Twitter on Tuesday morning to demand that Congress quickly approve his nominees. "When will the Democrats give us our Attorney General and rest of Cabinet! They should be ashamed of themselves! No wonder D.C. doesn't work!" Trump said.
Democrats have emphasized that the Trump aide who reportedly helped write the executive order banning some immigrant travel, Stephen Miller, was previously a longtime aide to Sessions.
Another complication was Trump's impending announcement of his choice to fill the vacant seat on the Supreme Court. Trump's order, which Democrats say has raised questions about whether the judicial branch can serve as an effective check on executive power, is certain to complicate that confirmation battle as well.
McConnell hasn't said when he plans to bring the Sessions nomination to the floor. The Senate voted Tuesday to confirm Elaine Chao to be transportation secretary, and is expected to vote no later than Wednesday on the nomination of Tillerson, the former Exxon Mobil Corp. chief, to run the State Department.
Ben Cardin of Maryland, the top Democrat on the Senate Foreign Relations Committee, said in floor debate that Tillerson showed "timid equivocation" on defending American values during his confirmation hearing, making him a poor choice to stand up to those in an administration who want "to bend or even break the law."
If McConnell moves to bring up Sessions after Tillerson, Democrats could employ some delaying tactics. Sessions could still receive a vote this week, but that would probably require Senate Republicans to keep the chamber in session into the weekend.
Late-Night Firing
Debate over Sessions on the Senate floor promises to be emotionally charged, with Democrats expressing outrage over Trump's immigration order and his decision to fire Yates, an Obama administration holdover, late Monday night after she said Justice Department lawyers wouldn't defend in court the White House executive order banning travel from seven Muslim-majority countries.
Democratic leaders staged a protest in front of the Supreme Court Monday night, and held the Senate floor well into the night to criticize Trump's order.
"We will not let this evil order make us less American," Schumer told protesters. "We will fight it with everything we have and we will win this fight."
Abortion, Voting Rights
While the entry ban dominated the debate over Sessions, Democrats questioned how the conservative senator from Alabama would act on issues from abortion to voting rights.
"I'm also concerned about the president's repeated calls for an investigation into voter fraud, simply because he lost the popular vote by 3 million," Feinstein said. "What will this attorney general nominee do? Will he use the awesome power of the Department of Justice and spend taxpayer dollars to launch partisan investigations into voter fraud? Or will he use his position to defend the voting rights of millions of Americans."
Sessions provided written answers late Monday to questions from Judiciary Committee member Patrick Leahy, a Vermont Democrat. He said neither he nor any of his current staff had a role in formulating or drafting Trump's executive orders.
"During the campaign, President Trump sought my and my staff's input on a number of matters on which I have taken very public positions as a senator; however, it would be impossible for me to know the degree to which that input was relied upon in formulating or drafting the executive orders in question," Sessions said.
— With assistance by Anna Edgerton, and Terrence Dopp
Before it's here, it's on the Bloomberg Terminal.
LEARN MORE