Kuroda on Cruise Control Belies Risks Posed to BOJ by Trump
By and
BOJ keeps policy settings unchanged, upgrades GDP outlook

Central bank sees risks to growth, prices skewed to downside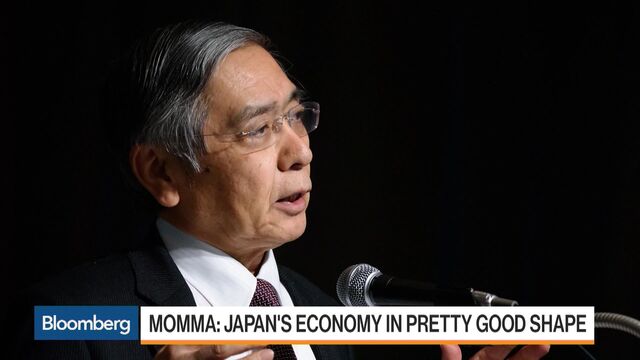 Optimistic economic forecasts and monetary policy settings that haven't changed since September lend an aura of calm and control to the Bank of Japan. The problem is, much of what's been going right lately -- and a lot of what could go wrong this year -- are beyond its control.
This was clear Tuesday when the central bank raised its projections for growth and maintained bullish price estimates, while warning that the risks to this picture are skewed to the downside, and include developments in the U.S. and other overseas economies.
The BOJ said it would continue to buy bonds and other securities at the same pace it did last year, and left its key short-term and long-term policy rates unchanged, as predicted by every economist surveyed by Bloomberg. Yet staying on this course may become increasingly challenging as its U.S. counterpart raises interest rates further, putting upward pressure on Japanese yields while also pushing down the yen.
Further weakness in the currency, which would support exporters and help the central bank toward its distant inflation goal, may raise the ire of Donald Trump and provoke a protectionist response that Japan can ill afford. A taste of that came later Tuesday when Trump said Japan and China "play" their money markets.
"The Trump administration and its policies are the most important source of risk for the BOJ outlook," said Izumi Devalier, Bank of America Merrill Lynch's head of Japan economics. "The BOJ has already made it clear they see U.S. economic uncertainty and its impact on financial markets as the biggest risk. It is now their No. 1 overseas risk factor. "
Read more: how excessive yen weakness could hurt the BOJ.
While Governor Haruhiko Kuroda steered well clear of any criticism of the new U.S. administration, he said protectionism could put a brake on global growth, but that it was unlikely to spread around the world. Kuroda highlighted the role of multilateral institutions such as the World Trade Organization.
The details of new economic policies in the U.S. aren't clear yet and the BOJ will monitor developments closely, he said.
Some warning signs in the Japan-U.S. relationship have been on show over the past week. The new president has been critical of what he describes as "unfair" trade when it comes to the relatively small number American made cars in Japan compared with the huge volume of Japanese cars sold in the U.S.
A weak yen helps to boost exports and corporate profits, which should also encourage more investment and wage growth, though these flow-on effects have been disappointing so far.
Kuroda repeated on Tuesday that the BOJ isn't targeting a level for the yen.
"The main thing for currencies is that they move in a fashion consistent with economic fundamentals, not that a currency goes way up or down," Kuroda said. "If a nation thinks a rate is out of line with fundamentals there might be a debate."
The yen traded at 113..09 versus the dollar at 11:03 a.m. Wednesday in Tokyo, having weakened about 8 percent since the last time the BOJ released its forecasts on Nov. 1, with much of that drop coming since the election of Trump.
Japan's Finance Ministry's top currency official, Masatsugu Asakawa, said Wednesday that the nation's monetary policy is "for the domestic purpose of beating deflation, and isn't done with FX in mind." Trump's comments may have been "a little bit wide of the mark," he said.

Key details in the policy statement and outlook report:
The short-term policy rate, which applies to some bank reserves, was held at -0.1 percent.
The long-term policy rate, which is a target applied the yield on 10-year Japanese government bonds, was left unchanged at around 0 percent.
The inflation forecast for the fiscal year starting on April 1 was kept at 1.5 percent.
The GDP projection for the fiscal year was raised to 1.5 percent, from 1.3 percent.
Barring a risk-off environment, an increasing number of economists think the bank may start tightening policy sometime this year. Kuroda said it's too early to discuss an exit strategy and that the BOJ is only halfway to its inflation goal.
Investors also have their eyes on the Federal Reserve, which is due to meet later this week.
While no change is expected at this gathering, U.S. rates are poised to rise this year, further weakening the yen.