U.K. Says It Has Won an Exemption From U.S. Travel Ban
By and
Foreign secretary says Trump visa curbs 'wrong and divisive'

President's visit right despite viral petition, Johnson says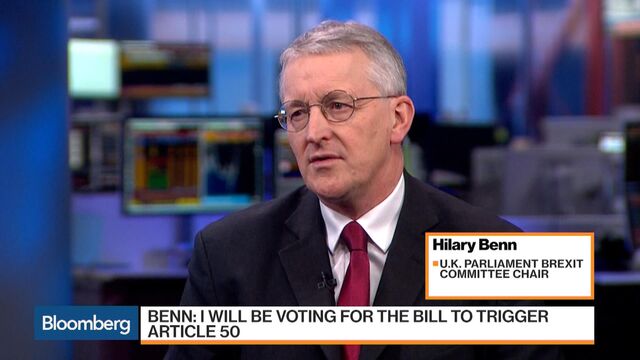 British passport holders are free to travel to the U.S. and aren't affected by a ban on people with links to seven mainly Muslim countries, U.K. Foreign Secretary Boris Johnson said, as officials around the world sought clarity on the new rules.
Johnson was trying to end confusion over the extent of President Donald Trump's ban after speaking on Sunday to Trump's son-in-law and senior adviser, Jared Kushner. Johnson released a detailed statement after the discussion saying that only nationals of Syria, Iraq, Iran, Sudan, Somalia, Yemen and Libya, traveling directly to the U.S. from those countries, are affected.
"The general principle is that all British passport holders remain welcome to travel to the United States," Johnson told the House of Commons in London on Monday. "We've received assurances from the U.S. Embassy that this executive order will make no difference to any British passport holder irrespective of their country of birth or whether they hold another passport."

The U.S. Embassy in London had continued on Monday morning to warn all nationals or dual nationals of those countries not to attempt to apply for visas in a statement posted on its website. "Do not schedule a visa appointment," it said. "If you already have an appointment scheduled, please DO NOT ATTEND your appointment as we will not be able to proceed with your visa interview."
This advice was later removed from the embassy website.
Trump Petition
More than 1.5 million people signed a petition to Parliament calling for the invitation for Trump to make a state visit to Britain to be withdrawn as a result of the policy. Lawmakers must now consider whether to schedule a debate on the issue. Johnson criticized the visa ban but said it is right for Trump to make the visit, which will involve Queen Elizabeth II playing host to the president.
"I share the widespread disquiet and I have made my views absolutely clear," Johnson said of the travel ban. "I have said that it is divisive, I have said that it's wrong and I have said that it stigmatizes people on grounds of their nationality."
The foreign secretary blamed the confusion surrounding the travel ban on the way it was implemented, without consulting U.S. government departments. It had "caught them on the hop," Johnson said.
However, "it is totally right of course that the incoming president of our closest and most important ally should be accorded the honor of a state visit supported by this government, and the invitation has been extended by Her Majesty the Queen quite properly," he said. Speaking in Dublin, Prime Minister Theresa May said that "that invitation stands."
Mandela Comparison
Some opposition lawmakers railed against the invitation, with veteran Labour member of Parliament Dennis Skinner describing Trump as a "fascist" and saying that "this man is not fit to walk in the footsteps of Nelson Mandela," the first president of a multiracial South Africa, who made a state visit to Britain 20 years ago.
Johnson replied that the monarch is used to controversial guests on state visits, naming a Romanian leader and the current president of Zimbabwe. "Both Nicolae Ceausescu and Robert Mugabe have been received by the Queen," he said.
As Labour lawmakers continued comparing the situation in the U.S. with Germany in the 1930s, Johnson told them to "stop demeaning the Holocaust." The foreign secretary, though, has made similar historical comparisons. Earlier this month he warned French President Francois Hollande not to behave like a Nazi in a war film, and last year he said the European Union was an attempt to achieve Adolf Hitler's goal of a united Europe by different means.
As the statement finished, former Labour leader Ed Miliband successfully deployed a rarely used parliamentary tactic to secure an immediate emergency debate on the travel ban. He said it would make the world a more dangerous place. "What message does this send to a quarter of the world's population?" he asked. "What message does it send to the world's Muslims? It says you're not wanted in the U.S."
Miliband then joined thousands of people who gathered outside May's central London residence to protest against Trump and demand that the visit be cancelled. Whitehall was closed by police, and the scenes were replicated in cities across the U.K.