Trump's Ethics Order Seen as Boost for Shadow Lobbying
By and
Five-year ban may push more ex-officials to avoid registering

Lobbyist filings have declined by roughly 3,700 since 2007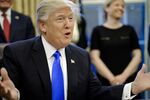 The ethics pledge that President Donald Trump has ordered all his appointees to sign looks tough: When they leave the federal government, they'll have a five-year ban on lobbying the agencies where they worked.
But Trump's order might open the door for more so-called "shadow lobbying," ethics specialists say -- influence peddling that doesn't quite meet the official definition of lobbying. That behavior, which can include arranging meetings with decision makers or attaching one's name to a particular interest group's cause, would avoid the terms of the executive order the president signed Saturday.
"One of today's great Washington scams is former government officials running lobbying operations and attempting to affect official policy while claiming they do not technically qualify as 'lobbyists,"' said Trevor Potter, president of the Campaign Legal Center, which advocates for stricter limits on money and politics. "Such conduct remains unaddressed."
In issuing his five-year ban on appointees' engaging in "lobbying activities," Trump departed from the approach that former President Barack Obama's administration used: banning appointees from communicating with employees of their former agencies for two years after leaving government. While Trump's time period is longer, his ban's focus on "lobbying activities" may narrow its scope in ways that permit abuse, critics said.
Fewer Registered
White House staff members didn't respond to requests for comment. But on Friday, before Trump signed the five-year order, a staff member said the president remains intent on following through with other ethics-related promises -- which have included addressing the rise of non-registered lobbying. That aide asked not to be named because the plans aren't public.
Since 2007, when Congress last updated the law on lobbying, the number of registered lobbyists in Washington has fallen to about 11,100 from 14,800, according to the Center for Responsive Politics. But at the same time, high-profile former officials including House Speaker John Boehner and Jim Messina, the deputy chief of staff in Obama's White House, have taken on corporate clients as strategic advisers -- not registered lobbyists.
A 2012 study of roughly 31,000 government-relations professionals found that there were at least twice as many people in Washington working to influence federal decision-making as there were registered lobbyists.
'Drain the Swamp'
"Issuing this executive order without addressing the problems we know about this law tells me the Trump administration is not serious about draining the swamp," said Tim LaPira, a political science professor at James Madison University who did that study.
"Drain the swamp" was one of Trump's campaign slogans, a broadside aimed at ending business as usual in Washington. Part of his agenda included taking on loopholes associated with shadow lobbying.
"I am going to expand the definition of 'lobbyist' so we close all the loopholes that former government officials use by labeling themselves consultants and advisers -- all of these different things -- and they get away with murder," Trump said in a speech during the closing weeks of his campaign. "Not going to happen."
Trump's other promises include pushing Congress for legislation that would bar foreign governments' lobbyists from raising money for federal candidates and would make his five-year ban permanent and applicable to Congress as well as executive appointees.
Lobbyist Definition
Current law defines a lobbyist as someone who spends at least 20 percent of his or her working time representing clients' interests to decision-makers, who makes more than one contact with such decision makers on behalf of a particular client and who is compensated for his or her services.
One way that shadow lobbyists avoid that definition is by using the "Daschle rule," named after former Senate Majority Leader Tom Daschle, a Democrat from South Dakota. That rule allows former officials to arrange meetings for clients with federal decision-makers without registering as lobbyists -- provided that they don't advocate their clients' positions when arranging the meetings. Daschle, who for years used such terms as "strategic counsel" to describe his work for clients, last year registered as an actual lobbyist for the first time.
Trump's executive order contains exceptions to the definition of lobbying that "are a huge disappointment," said Scott Amey, general counsel of the Project on Government Oversight, a nonpartisan ethics group. Still, Amey said, the five-year ban, which echoes one that former President Bill Clinton had imposed, "exceeds what we had for the past eight years."
Despite the questions about shadow lobbying, Trump's Saturday order delivered on one of his ethics promises: It instituted a lifetime ban on his appointees' lobbying for foreign governments. Federal law already imposes stricter standards on lobbying for foreign governments, so that provision is less likely to give rise to additional shadow lobbying.
'Revolving Door'
Trump's moves show "he's sensitive to the revolving door that Americans hate," said Tom Fitton, the president of the conservative activist group, Judicial Watch. The term "revolving door" refers to a system under which individuals move from the public to the private sector and back, while furthering private interests via their public contacts.
Fitton added that it's an "open question" whether Trump's approach will effectively prevent government corruption. But he said he's more concerned about misconduct by government employees than lobbying issues.
"We still have a First Amendment in this country and we have a right to petition our government," Fitton said. "The restrictions can arguably only go so far."
Some argue that the restrictions may already go too far.
"The five-year ban is unconstitutional and would be challenged in court," said Paul Miller, president of the National Institute for Lobbying & Ethics, a professional association for K Street practitioners. "We will also argue the five-year ban is outright discrimination against a class of people based solely on their profession."
Miller's group unveiled on Monday a proposal to close loopholes to get around registering as a lobbyist. Under the plan, firms involved in lobbying campaigns that don't directly contact lawmakers -- including grassroots organizers, public relations shops, pollsters and digital strategists -- would have to register and disclose their activities and fees. Former officials would have to register if they arranged meetings, even if they didn't advocate for their clients when doing so. And the 20 percent rule would be replaced with a requirement that anyone who spent ten hours on a lobbying effort and generated fees and expenses of $5,000 or more over a three-month period would have to register.
"We are going to find out very quickly if 'drain the swamp' was just another potshot at the lobbying profession or if there is real passion to strengthen" lobbying provisions, Miller said.
Before it's here, it's on the Bloomberg Terminal.
LEARN MORE