State Department Told to 'Get With the Program' on Visa Ban
By
'Dissent memo' circulated by diplomats objects to Trump order

Trump will 'put the safety of the country first,' Spicer says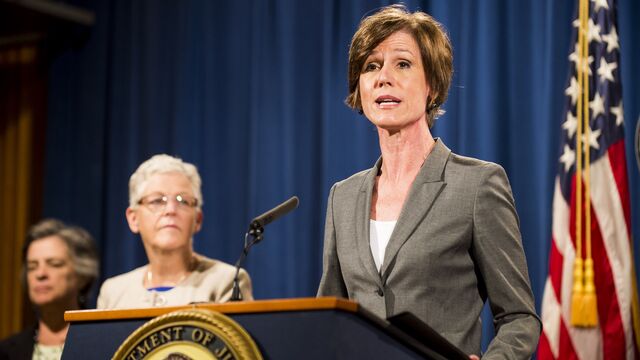 White House spokesman Sean Spicer rebuked State Department officials who objected to President Donald Trump's executive order suspending refugee inflows, saying the government employees should "either get with the program or they can go."
Spicer spoke Monday after some foreign service officers at the department circulated a draft of a so-called dissent memo criticizing Trump's executive order limiting entry to the U.S. from seven predominantly Islamic countries for 90 days and halting all refugee admissions for 120 days. The draft, protesting that the policy will lead to a decline in "international good will towards Americans," was obtained by Bloomberg News.
"He's going to put the safety of this country first," Spicer said of the president. "If somebody has a problem with that agenda, then that does call into question whether they should continue in that post or not."
Dissent memos are part of a system created in 1971 during the Vietnam War era to encourage candid conversation within the State Department. In June, a group of State Department officials circulated a similar memo urging President Barack Obama to take a harder line against Syrian President Bashar al-Assad's regime.
The latest memo, which hasn't been formally submitted, highlighted unease among many State Department employees about Trump's plans for the agency and the direction of U.S. foreign policy under the new president. A controversy erupted last week when several veteran career officials stepped down as the Trump administration pushed for a shake-up in the department's bureaucracy.
'Stiff Arm'
"You have to wonder about the wisdom of not relying on the career service -- the career service that is apolitical," Nicholas Burns, who was undersecretary of state in President George W. Bush's administration, said on Bloomberg Radio before Spicer spoke. "They will serve any president with loyalty, but they're getting a stiff arm right now from the Trump administration."
In Spicer's comments about the memo during the daily White House press briefing, he said Trump has been clear about his vision and those who don't agree should consider leaving.
The remarks suggest the Trump administration may not want to continue the dissent channel, which was developed so that veteran diplomats can push back against administration policy without fear of reprisal. Under the rules by which it was set up, managers are barred from a disciplining a department employee for using the channel for comments on policies such as Trump's immigration order.
'Core' Values
"The end result of this ban will not be a drop in terror attacks in the United States; rather, it will be a drop in international good will towards Americans and a threat towards our economy," the foreign service officers wrote of the order in their draft. "Looking beyond its effectiveness, this ban stands in opposition to the core American and constitutional values that we, as federal employees, took an oath to uphold."
In a statement before Spicer's comment at a White House press briefing, acting State Department spokesman Mark Toner said he was aware of the memo. He called the dissent channel "a long-standing official vehicle for State Department employees to convey alternative views and perspectives on policy issues."
"This is an important process that the Acting Secretary, and the Department as a whole, value and respect," Toner said. "It allows State employees to express divergent policy views candidly and privately to senior leadership."
The department has been in limbo while awaiting its new leader. The Senate was due to take an initial procedural vote Monday on Trump's nomination of former Exxon Mobil Corp. chief Rex Tillerson to serve as secretary of state.
— With assistance by Margaret Talev
Before it's here, it's on the Bloomberg Terminal.
LEARN MORE