politics
Maduro Hands Wide-Ranging Powers to Venezuela's Vice President
By
President's move stokes speculation over potentional successor

Vice president's office has been largely powerless since 2013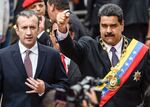 Venezuelan President Nicolas Maduro has given his vice president wide-reaching decree powers, including the ability to determine ministries' spending plans and expropriate private businesses, in a move that has fueled speculation over possible succession plans.
Tareck El Aissami, appointed by Maduro as vice president this month, is now authorized to issue economic orders that affect everything from taxes to foreign currency allotments for state-owned companies, according to the official gazette dated Jan. 26 and distributed Monday.
The new powers exceed those historically accorded the vice president's office and rival those at times enjoyed by the president, said Jose Vicente Haro, a professor of constitutional law at the Central University of Venezuela. The last such decree issued by a Venezuelan head of government was made when late leader Hugo Chavez removed himself from the public eye for treatment during the last round of his fight with cancer.
Since becoming president when Chavez died in 2013, Maduro has been dogged by surging inflation, empty store shelves and an emboldened opposition that has promised to end nearly two decades of socialist rule.
Maduro's opponents have been pushing ahead with a recall referendum begun last year to bring an early end to his mandate, which Venezuela's high court and electoral council delayed to effectively prevent a new presidential election. Under Venezuela's constitution, a successful recall referendum this year against Maduro -- an outcome that opinion polls overwhelming predict -- would lead to El Aissami taking over for the remainder of Maduro's term.
While analysts caution its too soon to tell what the measure means for Venezuela's beleaguered opposition, they say El Aissami's new economic powers clearly elevate him above any potential competition.
"In terms of budgets, any minister or official is now going to have to ask for Tareck's permission," said Haro. "Without a doubt, he's now the country's second-most powerful man."
— With assistance by Fabiola Zerpa
Before it's here, it's on the Bloomberg Terminal.
LEARN MORE