business
Locked in Trump's America: Immigrant Employees Are Afraid to Travel
By , , and
Deloitte, Google and McKinsey tell employees to halt travel

The ban makes a Stanford MBA student a prisoner of Palo Alto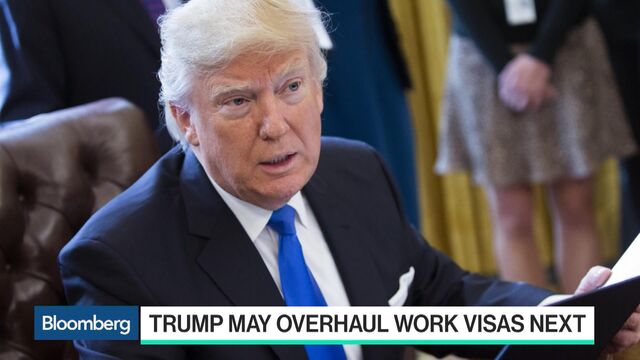 Khash Sajadi is locked out of the U.S.
Omid Scheybani is locked in.
Both are frozen in place by President Donald Trump's order banning citizens from seven predominantly Muslim nations. They're ensnared by a policy that has triggered chaos around the world, and, increasingly, reaction from companies including Deloitte LLP, McKinsey & Co. and Google, which have told affected employees to cancel travel outside the country.
 
"I don't want to be a test case," said Sajadi, chief executive officer of the Internet services startup Cloud 66, who was born in Iran and is now a U.K. citizen who splits time between offices in San Francisco and London. Sajadi, 41, had been planning to return to the U.S. in February, but is putting off the trip until at least April.
Scheybani, a Stanford University MBA student who is a dual citizen of Germany and Iran, is high and dry in Palo Alto.
"I was invited to a wedding in Colombia, plans that I will probably cancel over the next few days," said Scheybani, a 30-year-old who previously worked at Google. He was organizing a March jaunt to Italy for first-year students. "It's uncertain whether I will be able to attend, to lead this trip as well."
For U.S. corporations and employees who come from around the world and do business globally, Trump's order Friday was jolting. It prevents people from Iran, Iraq, Libya, Somalia, Sudan, Syria and Yemen from entering the U.S. for 90 days. The order led to chaos over the weekend, with judges temporarily blocking some provisions and the administration giving conflicting messages on its implementation.
"This is an about-face for corporations that have operated as global entities for more than a decade," said Pat Cook, chief executive officer of recruiter Cook & Co. in Bronxville, New York. "Most top executives as well as armies of professionals in the services businesses, from accountants to advertisers and IT specialists, constantly travel back and forth overseas to meet with clients -- and now won't be able to if they're from certain countries."
Short Notice
While a few firms gave numbers for the affected employees, "many companies are still digging in and trying to figure out how many employees are affected," said Lynn Shotwell, executive director of the Council for Global Immigration, which has 250 members including large corporations.
"It's a tough situation," she said. In the past, such decisions were made with enough time so that questions such as the status of green-card holders could be ironed out in advance. "Because it all happened so quickly there was a great deal of confusion," Shotwell said.
Many companies don't know their staff's birthplaces because tracking national origins could run counter to anti-discrimination law. The council advised its members to send messages to employees expressing support and asking those who may be affected to come forward.
"We are advising all who are not U.S. citizens and who were born in one of these countries not to depart the U.S., as you might not be able to get back in for at least 90 days," said a memo to employees from McKinsey, which employs more than 10,000 consultants.
At Deloitte, Chief Executive Officer Cathy Engelbert told employees that the company had identified 25 U.S.-based professionals who might be affected by Trump's order and is encouraging them not to travel outside the nation. She also said "we have an important role in demonstrating our values -- and Deloitte's inclusive culture -- by supporting those around us in every interaction at work, at home, with our clients and in our communities."
Alphabet Inc.'s Google extended the no-foreign-travel recommendation to permanent-resident employees and those who hold dual citizenship, according to a person familiar with the matter who didn't want to be identified because he wasn't authorized to speak publicly. Google declined to comment further.
Sergey Brin, Google co-founder and president of Alphabet, attended a protest of Trump's ban at the San Francisco airport Saturday. His family emigrated to the U.S. from the Soviet Union when he was a child.
From Afar
Even some executives who hold European or Canadian citizenship are altering travel plans because they're worried about being stopped at the U.S. border. 
Sajadi of Cloud 66 has delayed face-to-face meetings with customers in Las Vegas and San Francisco -- appointments that may have to be done as conference calls.
"That's the problem we have now, we don't know what to plan against," he said. Sajadi hasn't been to Iran in 11 years. His father, who lives in Iran, canceled a vacation to visit him and his two sisters, who also live in the U.S.
Scheybani, the Stanford student, said the school advised that students from countries that fall under ban should refrain from traveling internationally. The institution is organizing a session with immigration lawyers this week.
"I'm telling all of my clients not to leave the U.S.," said Farah Al-khersan, an immigration attorney who works in Warren, Michigan, outside Detroit. Al-khersan, an Iraqi-born American citizen, was held up for hours at the Port Huron bridge on the border between Canada and the U.S. over the weekend following a day trip to visit her husband's parents in Sarnia.
During the stop at the frontier Friday night, Al-khersan said, she was told that she could re-enter the country but not her husband, an Iraqi-born Canadian citizen who's a permanent U.S. resident and works as a pharmacist. He was eventually allowed to enter. 
"My husband is stuck here for the time being," she said. "He can't see his family."
— With assistance by Mark Bergen, and Adam Satariano
Before it's here, it's on the Bloomberg Terminal.
LEARN MORE