How the Judge Who Blocked Trump's Order Turns Immigrants Into Citizens
"I'm going to ask you to follow what President Obama said of the country."
By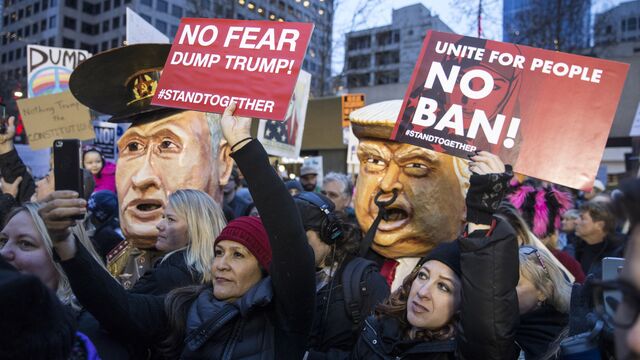 Under a mural that once hung at Ellis Island, dozens of men and women stood before a judge in a Brooklyn courtroom last week and became naturalized citizens of the United States—among the first to do so under President Donald Trump.
"Our country is at its best when we focus on the things we share," U.S. District Judge Ann Donnelly of New York's Eastern District told the assembled immigrants. Two days after the routine ceremony, the same federal judge working from the same courthouse would issue an emergency ruling that temporarily blocked the government from turning away from airports the refugees, visa holders, and legal U.S. residents caught up in Trump's executive order. 

Before she made her decision and sent headlines around the world, Judge Donnelly had a chance to address a much smaller audience. She encouraged the soon-to-be citizens in her courtroom to take in the mural, which was slated for destruction before it was rescued and ordered to be refurbished by another judge in the same court over four decades ago.
Donnelly, who might appear reserved and impartial at her bench during trials, was animated for the naturalization ceremony, eyes flickering between the immigrants and the painting. In the front row, a small, elderly woman born in the Dominican Republic strained her neck to take in the artwork overhead as Donnelly explained its significance. The mural, Edward Laning's The Role of the Immigrant in the Industrial Development of America, was created in the late 1930s as part of the Works Progress Administration. It shows a tableau of different-hued immigrants building a railroad, mining coal, and reaping wheat. 
This ceremony is all in a normal day's work for Donnelly. Her calendar shows that she reserves multiple times each week to officiate at naturalizations. On the morning of Jan. 26, a day before Trump's order to halt immigration from seven Middle Eastern countries, she encouraged the new citizens to register to vote and read aloud a passage from former President Barack Obama's final letter to the nation: "America is not the project of any one person. The single most powerful word in our democracy is the word 'we.'"
While federal immigration officials routinely ask guest speakers at naturalization ceremonies to stay away from politics, federal judges are free to discuss anything they want. Donnelly twice mentioned Obama, who had been the former president for six days at the time, and did not speak the name Trump at all in the ceremony. The judge was nominated to her current position by Obama in 2015.
"I'm going to ask you to follow what President Obama said of the country," Donnelly said after leading the cohort in an Oath of Allegiance to the U.S., with right hands raised, followed by the Pledge of Allegiance. With that, the immigrants were officially American citizens, and a grinning judge exited the courtroom.
She made her career as longtime New York prosecutor, and in her most famous case won a 2004 conviction against Tyco International executives for looting their company. A colleague from that time, Linda A. Fairstein, remembered Donnelly's calm during the high-profile trial. "She will not be perturbed by the storm around her," Fairstein told the New York Times over the weekend.
On Saturday night, with a storm of protesters gathered outside the Brooklyn courthouse, Judge Donnelly sided with arguments made by lawyers from the American Civil Liberties Union and other groups on behalf of several individuals detained by U.S. Customs and Border Protections officials as a result of the executive order Trump signed on Jan. 27. The 90-day ban on immigration from seven predominantly Muslim nation, which has been described as a security measure to protect the U.S. from terrorism, led to nationwide protests and criticism from both parties. Pro-bono lawyers and immigration advocates camped inside airports over the weekend waiting for those affected by the order to arrive in an effort to prevent deportations and detentions. Trump's order also affected legal permanent residents, visa holders, and those who had already been granted refugee status in the U.S. 
As a result of Judge Donnelly's emergency ruling, customs officers at airports were barred from turning those affected by the president's order back to their country of origin. Although it applied nationally, the ruling did not strike down the executive order. Trump has not yet publicly responded to Judge Donnelly's ruling, nor to similar rulings made in Massachusetts and several other states. In a tweet, however, the president blamed "big problems at airports" on a "Delta computer outage" that didn't occur until Sunday. 
Before it's here, it's on the Bloomberg Terminal.
LEARN MORE