German Inflation Nears 2 Percent as ECB Pushes Stimulus For All
by
Consumer-price growth of 1.9% is strongest since mid-2013

Price increases could be a flashpoint in German election year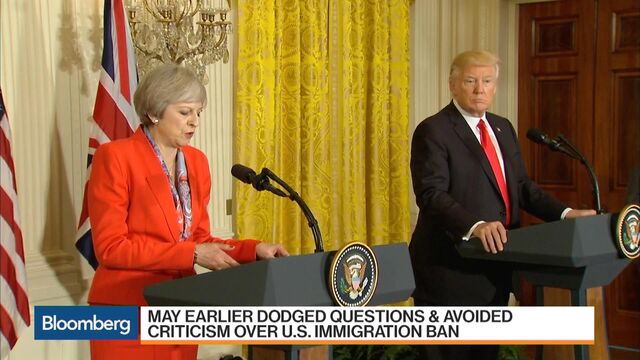 German critics of the European Central Bank's 2.28 trillion-euro ($2.4 trillion) bond-buying program got a little bit more ammunition on Monday.
Inflation in the euro area's biggest economy was 1.9 percent in January, the highest rate since July 2013, according to the Federal Statistics Office. Perhaps more importantly, it's now roughly at the level that the ECB targets for the currency bloc as a whole, a signal for many Germans that the central bank for 19 nations needs to rein in stimulus.

Germany's inflation rate has risen almost fivefold since September and, with savers burdened by near-zero deposit rates, it's a potential political flashpoint ahead of elections in September. Calls for the ECB to consider winding down quantitative easing, which is scheduled to run until at least the end of this year, have prompted monetary officials to remind the region's biggest economy that what matters is the currency bloc as a whole.
"Monetary policy can't just cater to one country but to the entire euro-zone economy," Ewald Nowotny, governor of Austria's central bank said on Monday in Vienna before the data were published. "German developments are watched, but they are just a part."
Nowotny said that while the Governing Council will "surely" have to take a decision on the future of quantitative easing before the end of 2017, he doesn't expect that to happen until after the summer.
Political Problems
While German Finance Minister Wolfgang Schaeuble has warned that the ECB's stance could cause political problems, ECB President Mario Draghi has called on Germans to be patient, noting that there are no convincing signs yet that underlying inflation in the euro area is picking up.
That's arguably true in Germany as well. Price growth, calculated using a national measure, was led by a 5.8 percent gain in energy costs. Goods prices climbed 2.7 percent and services rose 1.2 percent.
Even Executive Board member Sabine Lautenschlaeger and Bundesbank President Jens Weidmann -- both German nationals and critical of QE -- have said any policy normalization should be gradual. Dutch central-bank governor Klaas Knot said on Sunday that he sees no reason to continue bond purchases any more as the threat of deflation has gone, but "this doesn't mean you can just stop it right away."
Still, Hamburg's Finance Minister Peter Tschentscher warned that the ECB might struggle to withdraw the massive amount of liquidity it has injected into the financial system.
"Combined with other effects such as higher energy prices it could lead to an unexpectedly strong rise in inflation," he told Bloomberg on Monday. "I assume the ECB would respond to such a case with higher interest rates."
In Hand
Euro-area inflation probably accelerated to 1.5 percent in January from 1.1 percent the previous month, a separate Bloomberg survey shows. Core inflation probably held at 0.9 percent. Eurostat will release those figures on Tuesday.
"German calls toward the ECB to take their foot off the gas pedal will get a little louder from here on out, not only from Bild newspaper but from economists and policy makers," said Holger Sandte, chief European analyst at Nordea Markets in Copenhagen. "I don't think the ECB will listen as long as core inflation stays tame, and today's data showed no indication that it's getting out of hand."
Germany may have to accept that there's a price to pay for having the euro, Stephen King, senior economic adviser at HSBC, said in an interview with Bloomberg Television's Guy Johnson.
"If it's a good result for the euro zone but not a good result for Germany -- that tells you quite a lot about the politics of the euro zone and how they don't work very well," he said. "If you have average inflation for the euro zone at 1.8 percent or so and southern Europeans are at 1 or 1.5, and Germany is at 2.5, that for the euro zone would be a genuinely good result."
Before it's here, it's on the Bloomberg Terminal.
LEARN MORE