Head Shaved, Ex-Billionaire Batista Jailed in Rio de Janeiro
By
Accused of corruption, Batista was put on Interpol wanted list

'I'm coming back to face justice,' Batista told reporter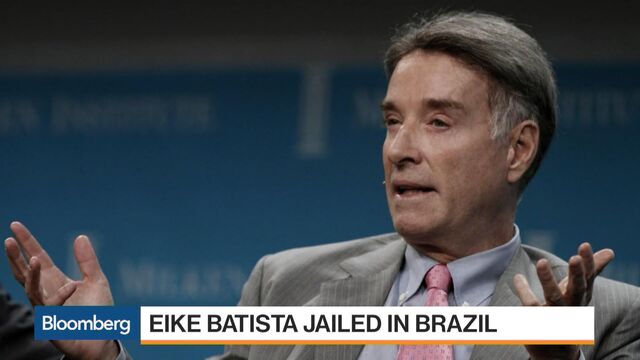 Eike Batista, once Brazil's wealthiest man, has been jailed for alleged corruption after returning to Rio de Janeiro on Monday.
Batista was sent to a prison in western Rio after undergoing the standard procedure of having his hair sheared, according to the state's penitentiary authority. Police arrested him hours earlier on the tarmac of the city's international airport as he returned from New York City. The night before, in John F. Kennedy International's lobby, he took pictures with fellow travelers and spoke to a Globo TV journalist.

"I'm coming back to face justice, as is my duty," he told the reporter. "It's time to help clear things up."
Federal prosecutors accuse Batista of money laundering and corruption, including the payment of $16.5 million in bribes to former Rio Governor Sergio Cabral, jailed in November. Both are targets in the long-running Carwash investigation of kickbacks involving Brazil's biggest builders and state-run oil producer Petrobras. The probe has advanced to threaten sitting legislators, and the Supreme Court approved on Monday its broadest plea deal yet. A prospective bargain from Batista could further rankle the political establishment.
Police had sought to arrest Batista four days earlier in Rio. In a pre-dawn raid of his hillside mansion on Thursday, they found a Lamborghini Aventador luxury sports car parked in his living room and about 100,000 reais ($30,000) in cash inside a safe, but not their suspect, who had flown to New York less than 36 hours before. Calling him a fugitive, Brazilian authorities included Batista's name on Interpol's list of wanted persons.
'Second Scalp'
Batista's commodities and logistics empire raised his personal fortune to more than $30 billion at the start of the decade, turning him into one of the wealthiest people in the world. Those riches evaporated after his group of startups went bust under a mountain of debt and insider trading investigations. At one point in 2015, he gained the rare distinction of "negative billionaire" when his net worth sank to more than $1 billion in debt.
Batista remained a colorful personality, and vowed to stage a comeback. He has promoted ventures including a generic version of the erectile dysfunction drug Viagra, cattle cloning and a line of toothpaste that promises to regenerate tooth enamel. Batista himself famously received capillary treatment costing thousands of dollars to regain a full head of hair. The technology utilizes a breathable "second scalp" with hand-sewn, real human hair.
'Personal Safety'
Batista wrote in the introduction to his 2011 autobiography that, while he speaks five languages, he didn't complete his metallurgical engineering studies at university. As such, he wasn't eligible for imprisonment in the neighboring unit reserved for people with college degrees, where former governor Cabral is held, according to the prison secretariat's press office.
"Preserving his personal safety is our primary objective," Batista's lawyer, Fernando Martins, told reporters Monday.
Batista could have his own cell within the common block to reduce the risk of harm to a man who may provide valuable information to investigators, said Ilona Szabo, executive director of Rio-based security think tank Igarape Institute. The secretariat cited security concerns for not divulging whether he occupies his own cell.
A common jail cell could provide Batista additional incentive to strike a plea bargain, said Joao Augusto de Castro Neves, Latin America director at the political consulting firm Eurasia Group.
Brazil's overcrowded prison system has become a flash-point, with several violent rebellions erupting since the beginning of the year. In the Bangu complex where Batista is jailed, the population is more than quadruple the prison's capacity, according to public defenders.
"Eike will want to avoid prison and will be willing to offer something," Castro Neves said before his arrest. "The ball will be in prosecutors' court to see whether they accept it. As Carwash continues, there's an argument to be made that if you're late to the game you have less to offer."
Odebrecht Plea
A slew of plea bargains continue to fuel the Carwash probe. On Monday, Supreme Court's Chief Justice Carmen Lucia Rocha accepted the testimonies of over 70 executives from builder Odebrecht SA, allowing them to be used in the investigation. Parts of the executives' statements have been leaking to the press for months, implicating high-profile politicians including President Michel Temer and Luiz Inacio Lula da Silva, a potential 2018 presidential candidate. Both have denied wrongdoing.
Marcelo Odebrecht, the company's former CEO, was convicted and imprisoned on corruption charges last year. He is jailed in Curitiba, in a cell block for prisoners who hold college degrees.
— With assistance by Sabrina Valle, and Mario Sergio Lima
Before it's here, it's on the Bloomberg Terminal.
LEARN MORE