Trump Administration Tries to Quell U.K. Fears Over Travel Ban
By and
Foreign Office issues statement offering details of order

Boris Johnson called State Department to raise concerns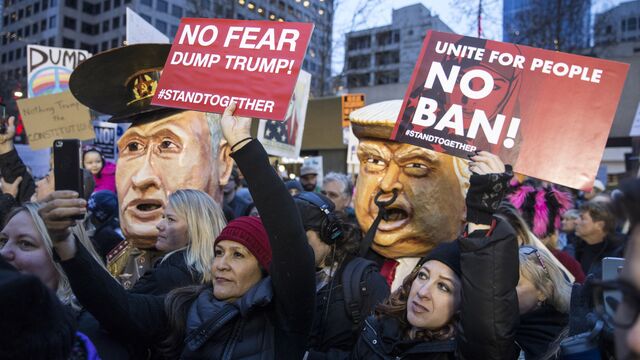 The Trump administration moved to reassure the U.K. over the impact of its immigration ban, saying only people traveling from seven Muslim-majority countries will be hit by it.
Prime Minister Theresa May ordered her top diplomat, Boris Johnson, to call the State Department to raise concerns about President Donald Trump's executive order from Friday. Fresh from a visit to the White House, May took a more critical stance after a backlash from her own Conservative lawmakers.
A statement by the Foreign Office said that Johnson had been told the travel ban:
applied only to people traveling from one of the named countries
didn't apply to nationals of those countries if they flew from elsewhere
didn't apply to U.K. nationals traveling from one of the named countries, even if they had been born there
"extra checks" would apply to people with dual citizenship traveling from those countries
May has been criticized in Britain for refusing to speak out after the president temporarily banned most citizens from Iran, Iraq, Libya, Syria, Yemen, Sudan and Somalia from entering the U.S. as a precaution against terrorism. Five percent of the U.K. population is Muslim.
Trump's executive order was signed hours after May had announced the president would be Queen Elizabeth II's guest at Buckingham Palace. Back in the U.K., a petition calling for the government to withdraw the invitation has already gathered more than half a million signatures.
Jeremy Corbyn, leader of the U.K. opposition Labour Party, said Britain should be in "no rush" to have Trump visit. "We need to find out exactly what his intentions are in the long-run," Corbyn told ITV television's "Peston on Sunday" show. "We should make it very clear we are extremely upset about it and it would be totally wrong for him to come here while it's going on. I am not happy about him coming here until that ban is lifted."

Most damaging to May was the fury from her own party at a delicate time in the Brexit process and when she has a slender majority in the House of Commons. Nadhim Zahawi, an Iraqi-born Tory lawmaker, pointed out that Trump's ban covered him and his wife.
Shortly after May returned to Britain from a visit to Turkey, her office tried to calm the waters by saying Britain will "make representations" to the U.S. government if the ban hits British citizens.
"Immigration policy in the United States is a matter for the government of the United States, just the same as immigration policy for this country should be set by our government," a spokesman said in a statement. "But we do not agree with this kind of approach and it is not one we will be taking. We are studying this new executive order to see what it means and what the legal effects are, and in particular what the consequences are for U.K. nationals."
Before it's here, it's on the Bloomberg Terminal.
LEARN MORE