May Says U.K. to Act If Trump Immigration Ban Snares Britons
By and
The prime minister earlier dodged questions, avoided criticism

Tory lawmakers rebuke their leader at delicate time for Brexit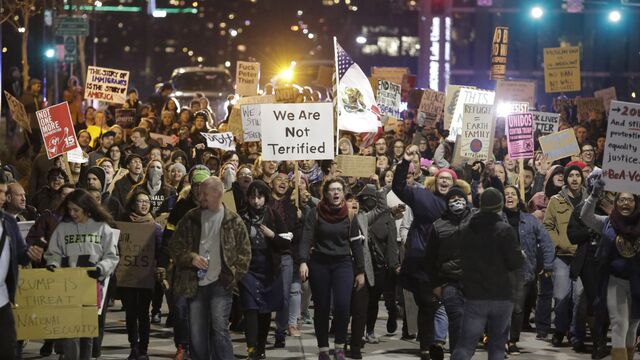 U.K. Prime Minister Theresa May broke her silence over President Donald Trump's U.S. immigration ban on Muslim-majority nations, saying she does not agree with the approach.
May, who met with Trump in Washington last week, has been criticized in Britain for refusing to speak out after the president on Friday indefinitely barred the entry of people fleeing Syria, temporarily froze the entry of other refugees and prohibited entry by people from seven majority-Muslim nations for 90 days in an effort to stop terrorists and get control over the immigration system. Five percent of the U.K. population is Muslim.

Most damaging was the fury from her own Conservative Party at a delicate time in the Brexit process and when she has a slender majority in the House of Commons.
Shortly after May returned to Britain from a visit to Turkey, her office acted to quell the backlash, saying Britain will "make representations" to the U.S. government if the ban hits British citizens.
"Immigration policy in the United States is a matter for the government of the United States, just the same as immigration policy for this country should be set by our government," a spokesman said in a statement. "But we do not agree with this kind of approach and it is not one we will be taking. We are studying this new executive order to see what it means and what the legal effects are, and in particular what the consequences are for U.K. nationals."
May held a conference call on Sunday with Foreign Secretary Boris Johnson and Home Secretary Amber Rudd, instructing them to raise concerns about the ban with their U.S. counterparts in the State Department and Department of Homeland Security, according to her office. Johnson said on Twitter it was "divisive and wrong to stigmatize because of nationality."
In Ankara a day after meeting Trump, May had been grilled at a news conference about what she thought of the ban. Only when journalists heckled her to answer, did she respond: "The United States is responsible for the United States' own policy on refugees."
The reaction was immediate.
Nadhim Zahawi, an Iraqi-born Conservative lawmaker, pointed out that he and his wife are subject to the ban. Speaking on Sunday, Zahawi said he felt "reassured" by the statement from May's office. "I don't think we should look away when President Trump makes a mistake," he said on "The Andrew Marr Show" on BBC Television.
'No Rush'
Another Tory, Sarah Wollaston, said Trump shouldn't be invited to address Parliament in his state visit to London later this year. Heidi Allen, a fellow Conservative, scolded May for being afraid to tell "someone powerful when they're wrong."
May's trip to Washington to tighten ties with the U.K.'s biggest trade partner had earlier been celebrated as a triumph, with the prime minister announcing that Trump had accepted a personal invitation from Queen Elizabeth II to Buckingham Palace.
Jeremy Corbyn, leader of the U.K. opposition Labour Party, said Britain should be in "no rush" to have Trump visit.
"We need to find out exactly what his intentions are in the long-run," he told ITV television's "Peston on Sunday" show. "I think we should make it very clear we are extremely upset about it and it would be totally wrong for him to come here while it's going on. I am not happy about him coming here until that ban is lifted."
'Appalling' Move
Liberal Democrat leader Tim Farron chided May for refusing to condemn the "appalling" ban as soon as it was announced.
"It took until the early hours for Theresa May to stand up and say she gently disagreed," Farron told Andrew Marr. "She should have opposed this from the beginning. This affects British people and you expect the prime minster to fight in Britain's corner."
May received some backing from Chief Secretary to Treasury David Gauke, who said the "divisive" ban underscored why it is necessary to maintain a relationship with the new U.S. administration.
The prime minister "is not a shoot-from-the-hip type of politician," Gauke said on the Marr show. "She wants to see the evidence, the briefing and then she will respond to that."
Before it's here, it's on the Bloomberg Terminal.
LEARN MORE