business
Confusion Grips Airports as Courts Limit Trump Travel Curbs
By and
Some carriers still imposing blanket ban even after rulings

Gulf hubs permit flights with green cards, bar visa holders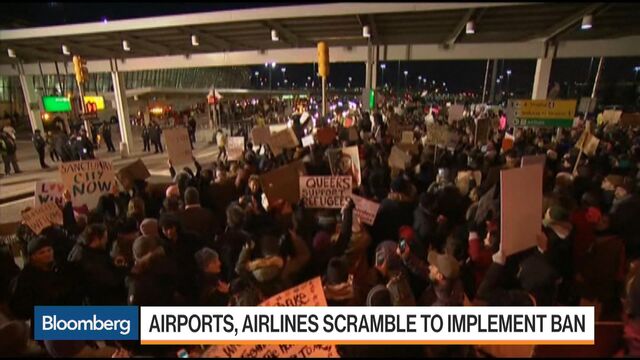 Confusion reigned at airports around the world Sunday over exactly which citizens from the seven nations subject to President Donald Trump's immigration ban are still permitted to fly to the U.S.
Airlines at international hubs from Dubai to London Heathrow were grappling with the implications of three court rulings in the U.S. Saturday and Sunday that have temporarily blocked the enforcement of parts of Trump's executive order.
In the hours after the presidential edict, many airports imposed blanket bans on U.S. travel for citizens of Iran, Iraq, Libya, Somalia, Sudan, Syria and Yemen, with Amsterdam Schiphol turning away seven people with valid visas, and Cairo denying boarding to migrants accompanied by United Nations officials.
Throughout the U.S., security officials detained 109 people arriving from the seven countries, including some legal U.S. residents, until judges in Brooklyn, New York; Alexandria, Virginia; and Boston intervened. The Boston ruling, issued Sunday, requires U.S. officials to let passengers from all seven countries who have valid visas deplane and go on their way, though the ruling applies only in Boston.
'Nothing Has Changed'
Still, airports and airlines are coming to terms with the implications. A security official at the American Airlines Group Inc. check-in desk at Heathrow's Terminal 3 said Sunday that he'd seen news of the court rulings overnight, but that no further guidance had filtered through from the carrier's U.S. base. Passengers holding passports from the seven countries will therefore all be turned away, in line with the executive order.
"Nothing has changed," he said.
Meanwhile, White House chief of staff Reince Priebus said Sunday on NBC's "Meet the Press" that "the executive order doesn't affect green-card holders moving forward," in what seemed to be an adjustment to the administration's policy.
Airports like Heathrow, Amsterdam and their Persian Gulf rivals are especially affected by the presidential instruction because the seven countries affected have few or no direct U.S. flights, compelling people from those states to fly via such major hubs. Global airlines have struggled to comply after being caught flat-footed by the executive order, and U.S. carriers didn't get advance notice of the travel ban either, according to a person familiar with the matter.
Stuck Overseas
The court decisions came after a day in which students, refugees and dual citizens were stuck overseas or detained and some businesses warned employees from those countries not to risk leaving the U.S.
There were wrenching scenes -- and angry protests -- at major airports across the U.S. before the court orders were issued. At New York's John F. Kennedy Airport, thousands protested outside the international arrivals terminal Saturday chanting, "Let them in!" and "No hate! No fear! Immigrants are welcome here!"
'Difficult to Explain'
A Delta Air Lines Inc. supervisor at Heathrow said staff had been briefed on the matter Sunday and suggested the situation had become "clearer," but that travel was still being limited to holders of green cards and diplomatic visas. Even then there has been some confusion with Homeland Security officials, she said. The U.S. carrier will refund anyone refused travel, the official said, adding that it has so far turned away "a few" people, which has been "very difficult to explain" to those concerned.
In the Gulf, Qatar Airways, Etihad Airways PJSC and Emirates of Dubai are advising that passengers from the seven nations targeted by Trump can fly to the U.S. if they hold green cards or NATO visas, or are diplomatic officials or UN representatives. Abu Dhabi-based Etihad also said people of dual nationality may travel if they hold a passport from a country not affected by the ban and have a visa.
At the same time, the carriers made no mention of travel by ordinary citizens of the seven countries who have valid visas, or refugees from those nations, which the U.S. court rulings indicated should still be permitted.
Emirates, the world's biggest long-haul airline, said it has so far suffered no significant disruption from the Trump order. About 20 people were affected by the travel ban on Saturday.
In Amsterdam, KLM, a unit of Air France-KLM Group, was unable to say whether passengers like those turned away Saturday would now be able to travel following the legal intervention.
"We simply follow the information we get from immigration and airline authorities in the U.S.," spokeswoman Manel Vrijenhoek said. "They make that call. It's not up to KLM."
— With assistance by Alan Katz
(
Updates with Boston ruling, Priebus comments starting in fourth paragraph.
)
Before it's here, it's on the Bloomberg Terminal.
LEARN MORE